When you buy a Bigshot camera, be prepared to go to work. These cameras, specifically designed for kids, come in a kit of all of the necessary parts to build your own simple digital camera. So if you have young kids who might be interested, be prepared to do it yourself to help them.
The Bigshot camera dates back to early 2010, when we blogged about how prototypes of the kit had been sent out to kids in New York, Bengaluru, India, and Vung Tao, Vietnam. Now, following years of testing and tweaking the design based on feedback, the camera has finally hit the market.
Developed by Shree Nayar, chairman of Columbia University's computer science department and director of the Computer Vision Laboratory, Bigshots were created in order to educate children on how cameras work, and what exactly comprises them.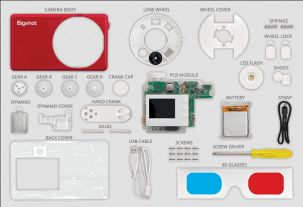 "It's about getting kids' hands dirty," Bigshot's creator, Prof Shree Nayar, told the BBC News Network. "In an age when software rules I want kids to know how to build hardware."
In addition to learning about the camera via the assembly process, Bigshot aims to have kids use the camera to tap into their creative potential as a photographer, and learn about framing, lighting, and motion. In addition, its third main goal is to enable children to express themselves by sharing life experiences through photos.
Personally, I think the concept of the Bigshot is refreshing. Ordinarily I might try to find a thread about how it's important to keep children abreast of technologies or novelties that may one day escape, or have already escaped, their general knowledge (e.g. cassette tapes, record players, analog cameras, and so on); but in this particular case, anything that draws children to science and engineering, and actually captures their attention, cannot be overstated.