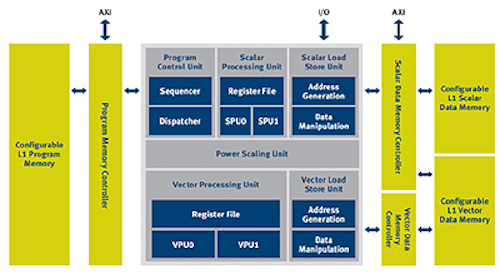 A new computer vision (CV) software library has been launched to help developers create vision-enabled applications for mobile, home, PC and automotive applications.

CEVA's (Mountain View, CA, USA) CV software library enables application developers to add vision capabilities to System-on-Chips (SoCs) incorporating the company's MM3101 vector processor IP.

CEVA-CV is based on OpenCV, a standard library of programming functions for computer vision processing. Including more than 500 of the most frequently used computer vision functions, CEVA-CV contains key CV kernels and algorithms required for application developers targeting mobile computing, PCs, smart TVs, natural user interface devices and advanced driver assistance systems.

In 2011, CEVA's IP was shipped in over 1bn devices and powers handsets from Nokia, Samsung, HTC, LG, Motorola, Sony, Huawei and ZTE. Today, more than 40 per cent of handsets shipped worldwide are powered by a CEVA DSP core.

Related items from Vision Systems Design.
1. Researchers compare multicore programming methodologies

Researchers at the Department of Computer and Information Science at Linköping University (Linköping, Sweden) have recently evaluated the effectiveness of OpenCL for programming multicore CPUs in a comparative case study with OpenMP and Intel Threading Building Blocks.

2. New API aims to help developers of multiprocessor systems

A group at the Multicore Association (El Dorado Hills, CA, USA) is planning to launch an application program interface (API) that could help engineers accelerate their applications using embedded parallel systems.

-- Dave Wilson, Senior Editor, Vision Systems Design