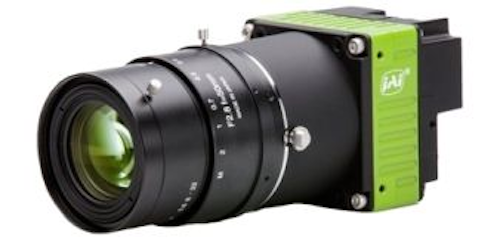 JAI's Spark SP-20000M-PMCL (monochrome) and Spark SP-20000C-PMCL (color) 20 MPixel cameras are the first models in JAI's new Spark series of industrial cameras. These models feature a global shutter, full frame rate of 30 fps, a CMOSIS CMV2000 CMOS image sensor, and full frame resolution of 5120 x 3840 pixels with a dual Camera Link interface capable of supporting multiple data rates in base, medium, or full configurations. Power can be supplied through the Camera Link connectors using a dual-channel-powered frame grabber, or can be provided via the separate 12-pin connector. The 62 x 62 x 84.5 mm cameras are suitable for use in flat panel inspection, semiconductor and electronics, production line monitoring, aerial mapping, traffic and surveillance, and security applications.
To Learn More:
Contact: JAI
Headquarters: San Jose, CA, USA
Product: Spark SP-20000M-PMCL and Spark SP-20000C-PMCL CMOS cameras
Key Features: 20 MPixel (5120 x 3840 pixels), CMOSIS CMV2000 CMOS image sensor, global shutter, 30 fps frame rate.
What JAI says:
View more information on the new Spark cameras.

View More Products| Locate a vendor or system integrator | Receive e-mail updates
Share new products that you think are particularly interesting or helpful by contacting James Carroll, Senior Web Editor, Vision Systems Design.
Join our LinkedIn group | Like us on Facebook | Follow us on Twitter