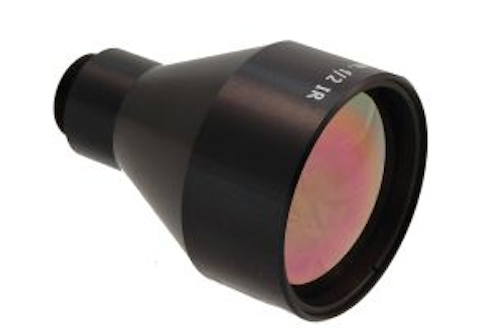 Resolve Optics has released its model 320 fixed focus infrared Germanium lens, which come with antireflective coatings that provide high performance throughout the IR wavelength (8-14 µm). The D-mount lenses come in 40, 80, or 120 mm focal lengths. These lenses also feature a compact size of 5.6 x 4.2 mm. Model 320 lenses are suitable for use in research and industrial thermal imaging applications.
To Learn More:
Contact:Resolve Optics Ltd.
Headquarters: Buckinghamshire, England, United Kingdom
Product: Model 320 lenses
Key Features: IR antireflective coating, D-mount, 40-80-120 mm focal lengths, compact size (5.6 x 4.2mm).

What Resolve Optics says:
View more information on the model 320 lenses.

View More Products
Locate a vendor or system integrator in Vision System Design's Buyer's Guide
Share new products that you think are particularly interesting or helpful by contacting James Carroll, Senior Web Editor, Vision Systems Design.

Join our LinkedIn group | Like us on Facebook | Follow us on Twitter | Check us out on Google +