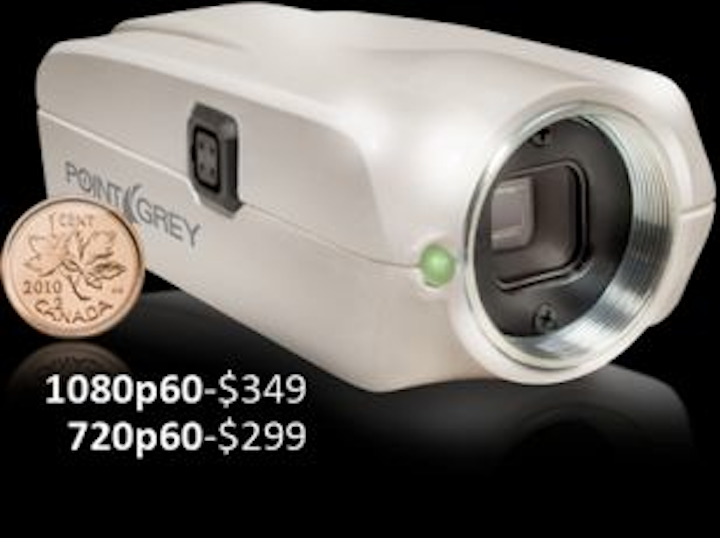 Cricket IP security cameras, Point Grey's latest additions, are designed for video surveillance and feature Sony Exmore CMOS image sensors and a wide dynamic range for challenging lighting conditions. Cricket features a 720p model with a 1.3 MPixel sensor and a 60 fps frame rate, as well as a 1080p model with a 2 MPixel sensor and 60 fps frame. Both models use Power over Ethernet connectivity and supportmulti-streaming and multi-casting, simultaneous support for both H.264 and MJPEG, 2D and 3D noise reduction, low power consumption, and ONVIF-compliance. The 88.1mm x 44mm x 32mm cameras are also available in customizable board-level models.
To Learn More:
Contact:Point Grey
Headquarters: Richmond, BC, Canada
Product: Cricket IP security cameras
Key Features: Sony Exmore CMOS image sensors, 720p/1.3 MPixel and 1080p/2 MPixel models, 60 fps frame rate, 88.1mm x 44mm x 32mm size.
What Point Grey says:
View more information on the Cricket IP cameras.

View More Products| Locate a vendor or system integrator | Receive e-mail updates
Share new products that you think are particularly interesting or helpful by contacting James Carroll, Senior Web Editor, Vision Systems Design.
Join our LinkedIn group | Like us on Facebook | Follow us on Twitter | Connect on Google +