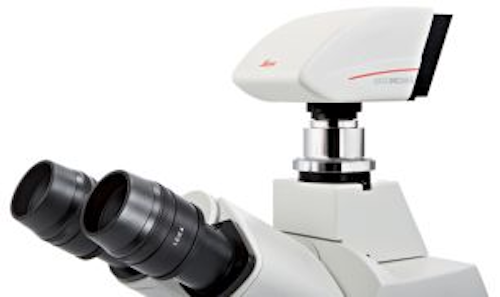 Leica has launched two microscopecameras, first of which is the Leica DFC3000 G, a grayscale USB 3.0 microscope designed for fluorescence applications. It features a passive cooling architecture, correlated pixel double sampling, and a sensitive CCDimage sensor that can offer up to 30 fps. The Leica DMC2900 is a USB 3.0 microscope camera with a 3.1 megapixel CMOS image sensor for standard brightfield applications in research, industry, and life sciences. This camera offers up to 30 fps and a CIE-LAB color engine that processes images real time. Both cameras are reportedly compatible with a broad range of microscopes and complement each other especially in fields where both brightfield and fluorescence applications may be needed.
To Learn More:
Contact:Leica Microsystems
Headquarters: Wetzlar, Germany
Product: Leica DFC3000 G and the Leica DMC2900.
Key Features: Passive cooling architecture, CCD sensor with up to 30 fps (DFC3000 G), 3.1 megapixel CMOS image sensor, CIE-LAB color engine (Leica DMC2900), USB 3.0.
What Leica says:
View more information on the Leica DFC3000 G.
View more information on the Leica DMC2900.
View More Products
Locate a vendor or system integrator in our Buyer's Guide
Share new products that you think are particularly interesting or helpful by contacting James Carroll, Senior Web Editor, Vision Systems Design.