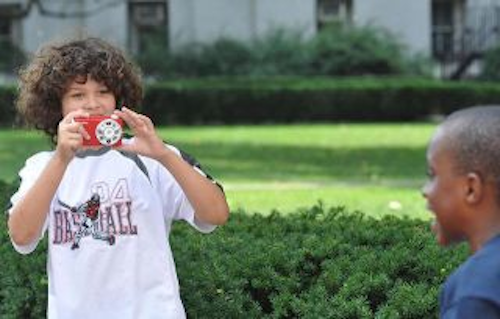 Back in early 2010, we first reported on the Bigshot camera—a build-it-yourself digital camera that comes in a kit of 20 or so parts that snap or screw together, designed to educate children on how cameras work, and what exactly comprises them.
Then in August of this year, we followed up on the Bigshot project, with news that the camera was finally hitting the open market.
Now to add to these entries, some early feedback on the camera.
Students from New York's Bushwick JHS291 School began assembling the cameras in early October with the guidance of artist Kostas Kiritsis, who is providing lessons on photography history, digital color mixing, aesthetics, and the mechanics of the camera, according to Fast Co.Exist.
First, the faculty feedback. Dr. Jerry James, director of teaching and learning at New York's Center for Arts Education says that the camera has been a success, providing a unique educational experience for the students.
"What was unique about Shree's camera is that the students actually make the camera, and every component in the camera has an educational purpose," he said in the Fast Co.Exist article. "I would say that by far it's the most exciting science and art project we've ever done."
So what about the students? Well, not a ton of feedback here, but a short YouTube video shows two JHS291 students working on the camera, seemingly enjoying themselves. At one point, one of the students appears so excited; he begins jumping up and down on camera.
Interpret this apparent jubilation how you will, but to me, it's a win-win. In many young kids today, at least here in the United States, a propensity for constant stimulation and electronic entertainment, to a lesser degree, is noticeable. The Bigshot camera seems to fit both of those needs, while also providing an educational backdrop, and perhaps laying groundwork for students' future interest in photography or the arts.