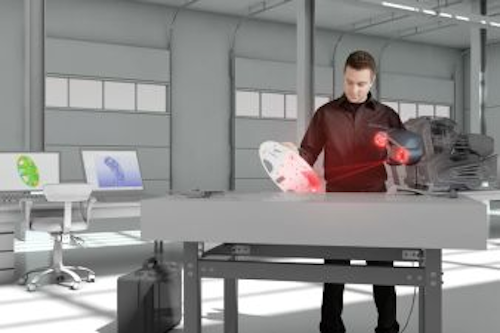 AMETEK, a global manufacturer of electronic instruments and electromechanical devices, has announced the acquisition of Creaform, Inc., a developer and manufacturer of portable 3D measurement technologies and a provider of 3D engineering services, for approximately $120 million.
Located near Québec City, Creaform has annual sales of approximately $52 million which develops stand-alone portable 3D scanners. Creaform 3D scanners are used to create 3D models and measurements for various applications. The company's product line includes a number of families of 3D scanners, portable coordinate measuring machines, and additional accessories which are used in reverse engineering, dimension inspection, precision manufacturing, non-destructive testing, automated quality control, and 3D printing.
"Creaform is an outstanding acquisition. It has an impressive R&D base and an industry-leading position across a number of high growth market applications. Creaform significantly expands the range of non-contact metrology products offered by our Ultra Precision Technology business," said Frank S. Hermance, AMETEK Chairman and Chief Executive Officer in a press release.
In addition to its location in Lévis, Québec, Creaform has an innovation center in Grenoble, France, and has direct sales operations in the United States, France, Germany, China, Japan and India. It joins AMETEK as part of its Electronic Instruments Group (EIG), a recognized leader in advanced monitoring, testing, calibrating, and display instruments with 2012 sales of $1.9 billion.
View the press release.
View more information on AMETEK.
View more information on Creaform, Inc.
Also check out:
Robots and 3D scanners used to map ancient Roman aqueducts
3D scans show entire fossil of baby dinosaur skeleton
Digital autopsies with 3D imaging software and medical scanners
Share your vision-related news by contacting James Carroll, Senior Web Editor, Vision Systems Design
To receive news like this in your inbox, click here.
Join our LinkedIn group | Like us on Facebook | Follow us on Twitter | Check us out on Google +