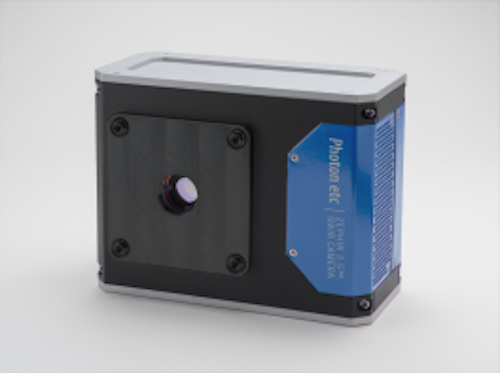 The ZephirTM. 2.5 MCTcamera from Photon etc.—developed for industrial imaging applications—is reportedly the fastest affordable SWIR camera on the market. It is based on a 320x256 HgCdTe FPA, offers a high-quantum efficiency on the range 0.8 to 2.5 μm and has a frame rate of 346 Hz. The camera is available in its C-Mount version or with a standard objective with 16 mm focal length and a FOV of 33.4 x 27°. Photon etc. says that because of low dark current and readout noise, the ZephirTM is suitable for use in low-light scientific and hyperspectral imaging.
To Learn More:
Contact:Photon etc.
Headquarters: Montreal, QC, Canada
Product: ZephirTM 2.5
Key Features: Frame rate of 346 Hz, acquisition times of 1 μs to 150 ms, quantum efficiency on the range of 0.8 to 2.5 μm.

What Photon etc. says:
View thePhoton etc. product release for the ZephirTM 2.5.
View More Products
Locate a vendor or system integrator in Vision System Design's Buyer's Guide
Share new products that you think are particularly interesting or helpful by contactingJames Carroll, Senior Web Editor, Vision Systems Design.