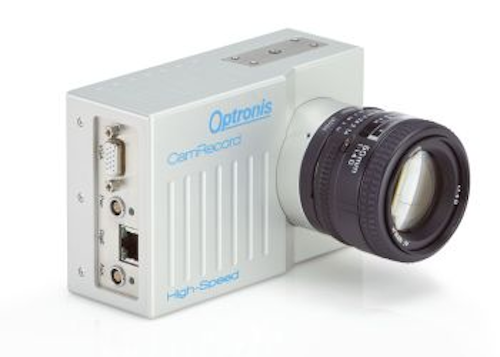 The CL25000CXP high-speed camera achieves a 25-Gbit/sec data transfer rate with its CoaXPress interface, capturing 72 images per second at full resolution. The 25-Mpixel CoaXPress camera can reach frame rates of 1688 images per second when resolution is reduced, is available on color and monochrome versions, and employs a progressive-scan CMOS image sensor with 4.5-micron pixel size. The camera supports the use of Nikon F-mount (optional C-mount) lenses.
Optronis
Kehl, Germany
-- Posted by Vision Systems Design

View More Vision+Automation Products

Locate a vendor or system integrator in our Online Buyer's Guide

---
NEW PRODUCT PRESS RELEASE
A hot shot in machine vision!
Following up on the first 4 MP CoaXPress high-speed camera for industry, this year Optronis has increased the resolution of the CoaXPress camera to 25 MP - thus providing industry with a high-performance tool for process analysis and fault detection. With its CL25000CXP now achieving 72 images per second at full resolution, from November onward Optronis will deliver one of the top performing product ranges with CoaXPress interface. When the resolution is reduced, the camera's framerate can be increased to a maximum of 1,688 images per second. In addition, the 25 MP camera has also been designed to EMVA 1288 standard requirements. The EMVA 1288 standard with its clearly d efined specifications provides the customer with a basis for making easy comparisons.
PRODUCT NOTE:
HIGH-SPEED VIDEO CAMERA
with 25Gbit/s high speed interface
- 72 images per second in full resolution
- 25 MPixel Sensor resolution
- Very compact housing
- CoaxPress high-speed Interface
- Monochrome or color sensor
- Real-time image data transfer
- Very high light sensitivity
More information on the Product Note can be seen at http://www.optronis.de/fileadmin/Upload/Product/CL/CL25000CXP_en_D.pdf.
Optronis GmbH Contact
Honsellstr.8
77694 Kehl
Germany
Tel: +49 (0) 78 51/91 26 - 0
Fax: +49 (0) 78 51/91 26 - 10
Email: info@optronis.com
SOURCE: Optronis