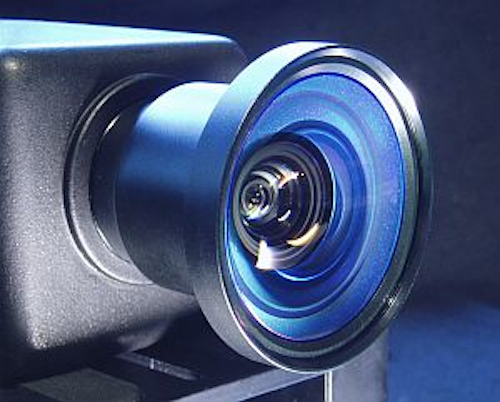 The Model 287wide-angle lens adapter is designed to double the field of view (FOV) throughout the zoom range of any zoom camera. The adapter provides a true 0.5x FOV by working with the moving pupils of zoom lenses. High-index glasses enable a low-distortion, wide-angle view with a higher level of correction needed at narrow angles of view. It is individually collimated to maintain the full focus range of the prime lens.
Resolve Optics Ltd.
Chesham, UK
-- Posted byVision Systems Design

---
NEW PRODUCT PRESS RELEASE
Lens Adapter Doubles Field-Of-View Throughout Zoom Range
The Model 287 Wide Angle Lens Adapter from Resolve Optics Ltd. is designed to double the field of view (FOV) throughout the zoom range of any zoom camera.
To date all 'off the shelf' wide angle adapters have offered a compromise between FOV, distortion and resolution. If the lens achieves the FOV and minimal distortion then the compromise will be the resolution and so on. The result often is 'milky' out of focus images that get progressively worse the nearer you get to full zoom.
For the first time a wide angle lens adapter is available that provides a true 0.5x field of view (FOV) whilst maintaining minimal distortion and high resolution throughout the zoom range of your camera.
The compromise free performance of the Model 287 was achieved by designing the adapter to work with the moving pupils of zoom lenses. Its unique design combined with the use of specialised high index glasses carefully balances the provision of a low distortion wide angle view with the higher level of correction needed at the narrow angles of view. The result is a high quality lens that has an unprecedented full 'zoom through' capability resulting in high contrast images regardless of zoom position whilst still maintaining both resolution and focus to the very edges of the image.
Aimed at the broadcast and high end medical/industrial market each production lens adapter is individually collimated to maintain the full focus range of the prime lens. Incorporating an M37 mounting thread the Resolve Optics wide angle adapter will enable many zoom lens / camera combinations with a standard 45 degree FOV to achieve a genuine 90 degree field of view.
For full technical specifications please visit www.resolveoptics.com/adapters.htm or contact Resolve Optics Ltd. on telephone +44-1494-777100 or email sales@resolveoptics.com
Operating from its ISO9001-2008 approved facility in Chesham, UK - Resolve Optics Ltd. has for over 20 years developed OEM quantity specialist lens systems and optical designs for small and large high technology businesses. The company has the proven and rare capability to produce small quantities of high performance, mounted lens systems with the look, feel and quality equivalent to the best professional photographic and broadcast TV lenses.
Worldwide HQ
Resolve Optics Ltd.
Asheridge Road
Chesham
Bucks. HP5 2PT
UK
tel. +44-1494 777100
email sales@resolveoptics.com
SOURCE:Resolve Optics