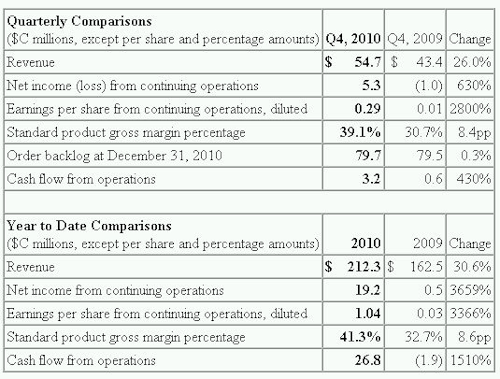 DALSA Corp. (TSX:DSA; Waterloo, ON, Canada), a provider of high-performance digital cameras , software, and imaging hardware, has reported revenue from continuing operations of $54.7 million for the quarter ended Dec. 31, 2010, and net income from continuing operations of $5.3 million or $0.29 per share, diluted. For the full year 2010, the company achieved revenue of $212.3 million and net income from continuing operations of $19.2 million or $1.04 per share, diluted. The following tables summarize the key results for the fourth quarter of 2010 and for the full year 2010 and compare them to the fourth quarter of 2009 and the full year 2009, respectively.
"2010 was a strong year for DALSA," commented Brian Doody, CEO of DALSA Corp. "In our Digital Imaging business, we sawa significant return of demand for our products as well as new demand for products targeting the high-volume industrial machine-vision market segment. In our Semiconductor business, despite a decline in revenue year over year, we saw progressively increasing demand for MEMS as the year progressed and we achieved important technical and business development milestones in CMOS x-ray detectors for medical and dental."
In the Digital Imaging business in 4Q10, DALSA posted $37.2 million in revenue and net income of $6.8 million, compared to revenue of $26.4 million and net income of $1.2 million in 4Q09. Digital Imaging net income in the quarter included a $2.5 million, after tax gain from the sale of land in Waterloo. Backlog for Digital Imaging at the end of 4Q10 was $38.6 million, up from $37.9 million at the end of 3Q10.

In theSemiconductor Business, the company reported revenue of $17.5 million and net loss of $1.5 million in the fourth quarter of 2010, compared to revenue of $17.0 million and net loss of $2.2 million in the fourth quarter last year. MEMS revenue increased to a record $9.7 million in the fourth quarter, up from $6.4 million in the same quarter last year. The loss for the quarter in the Semiconductor business was due largely to foreign exchange and reduced wafer starts caused by downtime on a specific piece of wafer processing equipment, which has since been repaired.
Teledyne transaction update
On Dec. 22, 2010, the company and Teledyne Technologies Inc. (NYSE: TDY) jointly announced that they had entered into adefinitive arrangement agreement providing for the acquisition of DALSA by a wholly owned subsidiary of Teledyne.
The transaction will be carried out by way of a statutory plan of arrangement under the Business Corporations Act (Ontario). The completion of the transaction is subject to, among other things, the approval of shareholders of DALSA representing at least two-thirds of the common shares of DALSA represented at a special meeting of shareholders of DALSA to be called to consider the transaction and Court approval. The Meeting will take place on Feb. 10, 2011.
The board of directors of DALSA has unanimously recommended that the shareholders of the company vote in favor of the transaction. On Jan. 17, 2011, ISS Proxy Advisory Services (formerly Riskmetrics), a provider of proxy research, advice, and voting recommendations to financial institutions, published a report recommending that their subscribers vote "for" the special resolution approving the plan of arrangement. Shareholders may obtain a copy of the definitive agreement, Information Circular of DALSA, and other meeting materials atwww.sedar.com.

SOURCE:DALSA

-- Posted byVision Systems Design