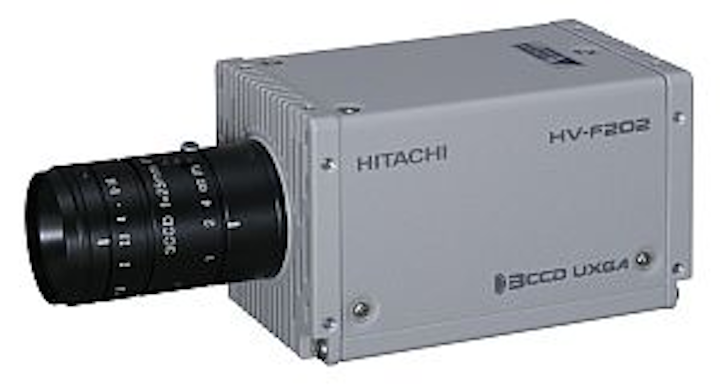 HV-F202CL and HV-F202GV three-CCD cameras offer 2-Mpixel resolution with a transfer rate of 15 frames/s (GigE Vision) or 30 frames/s (Mini Camera Link). The CCD sensors are 1/1.8-in. format with 1628 × 1236 effective pixels. Both cameras feature 8-, 10-, and 12-bit RGB output, six-color vector masking, and long time integration up to 10 s in a 55 × 55 × 89-mm footprint. Applications include image processing, machine vision, quality control, and microscopy.
Hitachi Kokusai Electric Europe
Neu-Isenburg, Germany
-- Posted byVision Systems Design

---
NEW PRODUCT PRESS RELEASE
Hitachi Kokusai Electric Europe GmbH has releases 2 new 3CCD cameras with high resolution CCD sensors, Mini "CameraLink" and Gigabit Ethernet.

Both cameras offer 2 Megapixel resolution with a transfer rate of 15 f/s (GigE) or 30 f/s (SCL), 8, 10 & 12 Bit RGB, 6 Color Vector Masking, Longtime Integration up to 10s, easy to use and small dimensions of 55mm x 55mm x 89mm ( W x H x D).
Application fields are all areas of Image Processing, Machine Vision, Quality Control and Microscopy, especially everywhere, high resolution with absolute color reproduction and highest possible data transfer, is needed.
The following types are available:
-- HV-F202CL - 3 x 1/1.8" CCD with 1628 x 1236 effective pixel, 30 f/s and Mini "CameraLink"
-- HV-F202GV - 3 x 1/1.8" CCD with 1628 x 1236 effective pixel, 15 f/s and GigE
Additional technical Specifications are as follows:
-- C-Mount.
-- 2 Megapixel resolution
-- 30 f/s or 15 f/s
-- Selectable 8, 10 or 12 Bit RGB output
-- External Trigger Input
-- Gain selectable from 0 to +12dB
-- White shading compensation
-- Electronic shutter from 1/30 up to 1/100000s or variable.
-- Long time integration up to 10s
-- 6 Color Vector Masking
-- Paint Black, Black Level & Knee adjustable
-- Partial Scan
-- Pixel compensation
-- Small dimensions of 55mm (W) x 55mm (H) x 89mm (D)
-- Low weight, only 350g without lens
-- External 12V DC supply via 12 pin connector or HV-F202GV via power over Ethernet (PoE)
-- 12 month warranty

SOURCE: Hitachi Kokusai Electric Europe