LEDs light up Leica microscopes
The LED illumination series LED5000 and LED3000 have been designed for high-end stereo microscopes and routine stereo microscope systems, respectively.

Dec 23rd, 2011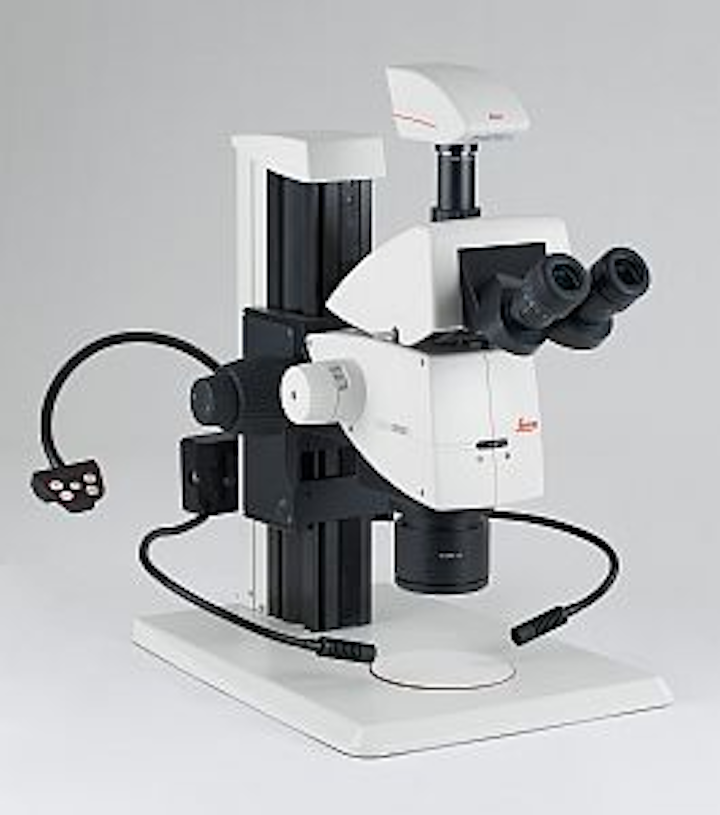 TheLED illumination series LED5000 and LED3000 have been designed for high-end stereo microscopes and routine stereo microscope systems, respectively. Both series have spotlight, ringlight, and multicontrast illumination modules available. Lifetimes up to 50,000 hours nearly eliminate downtime. The LEDs save up to 90% of the power required by a 150-W halogen lamp. The LED5000 series can communicate with Leica Application Suite (LAS) software to save illumination settings with captured images and performing recall when needed.
Leica Microsystems
Wetzlar, Germany
-- Posted byVision Systems Design

---
NEW PRODUCT PRESS RELEASE

Saving Energy and Cutting Costs in Microscopy
Leica Microsystems Presents Its Latest Range of Innovative LED Illumination Modules
Heerbrugg, Switzerland. The LED illumination series LED3000 and LED5000 from Leica Microsystems have proved their worth in numerous industrial applications for rapidly and accurately identifying the finest structures, faults, scratches or dust particles on surfaces. The LED5000 series has been espe-cially designed for Leica's high-end stereo microscopes, whereas the LED3000 series integrates per-fectly into routine stereo microscope systems. Both series have now been complemented by the new spotlight, ring light and multi-contrast illumination modules, so that users can choose the most suitable illumination solution for every stereomicroscopic task.
Due to their flexible goosenecks, the two-arm LED spotlight illuminations Leica LED3000 SLI and LED5000 SLI provide variable and easily adjustable contrast. They offer a unique operating concept: The control unit on a separate gooseneck is positioned to suit the ergonomic needs of the user without requiring extra space on the desk.
The Leica LED5000 RL ring light is a universal illumination solution for different applications. The sec-ond generation of this illumination features greater brightness and improved homogeneity. The seg-ments can be conveniently switched to gain additional information from the sample without having to move it.
The multi-contrast illumination Leica LED3000 MCI with the four integrated LED spots produces par-ticularly high contrast: The flat angle of the oblique incident light visualizes the finest unevennesses and impurities such as scratches and dust particles.
All illuminations of the Leica LED3000 and LED5000 series offer the same benefits of LED technology and perfect integrability into Leica stereo microscope systems. With a lifetime of up to 50,000 hours, there are virtually no more downtimes. Saving up to 90 per cent of the power required by a 150 watt halogen lamp, the LEDs cut operating costs while making a valuable contribution to the protection of the environment. The illuminations have been closely matched to the technical specifications of Leica ste-reo microscopes. In the case of the LED5000 series, this even means communication with Leica Appli-cation Suite (LAS) software. Illumination settings are saved together with the image and can be recalled whenever needed.
Leica Microsystems is a world leader in microscopes and scientific instruments. Founded as a family business in the nineteenth century, the company's history was marked by unparalleled innovation on its way to becoming a global enterprise.
Its historically close cooperation with the scientific community is the key to Leica Microsystems' tradition of innovation, which draws on users' ideas and creates solutions tailored to their requirements. At the global level, Leica Microsystems is organized in four divisions, all of which are among the leaders in their respective fields: the Life Science Division, Industry Division, Biosystems Division and Medical Division.
Leica Microsystems' Biosystems Division, also known as Leica Biosystems, offers histopathology labo-ratories the most extensive product range with appropriate products for each work step in histology and for a high level of productivity in the working processes of the entire laboratory.
The company is represented in over 100 countries with 12 manufacturing facilities in 7 countries, sales and service organizations in 19 countries and an international network of dealers. The company is headquartered in Wetzlar, Germany.
SOURCE:Leica Microsystems