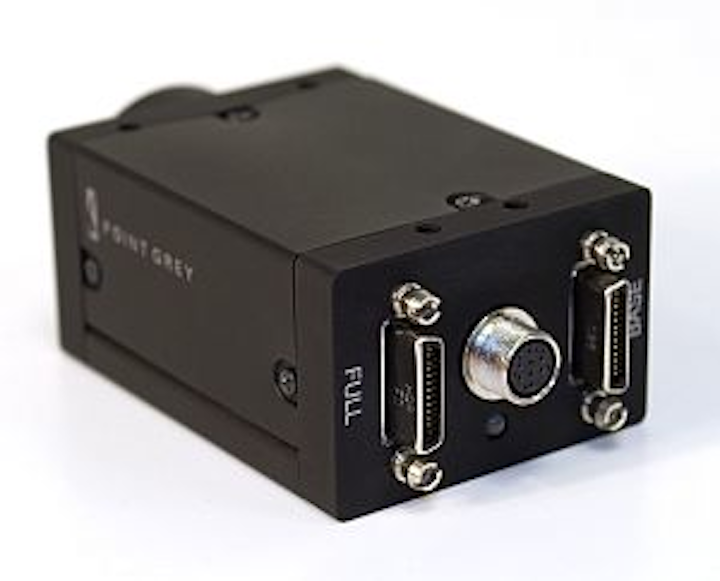 NEW PRODUCT PRESS RELEASE
Point Grey (Richmond, BC, Canada), a supplier of advanced imaging products, has launched its Gazelle Camera Link digital camera series.
The Gazelle camera debuts with 2.2 and 4.1 megapixel monochrome models that are based on the high sensitivity CMOSIS CMV2000 and CMV4000 global shutter CMOS sensors. With a Camera Link digital interface in Base (2-tap) and Full (8-tap) configurations, the 2.2 megapixel model outputs 2048x1088 resolution images at a maximum rate of 280 FPS, while the 4.1 megapixel model outputs 2048x2048 images at 150 FPS. The Gazelle features the same compact housing as Point Grey'sGrasshopper camera, which measures just 44 x 29 x 58 mm in size. A host of features are included for customizing imaging applications, including opto-isolated GPIO for industrial triggering and strobe output, pixel binning and region of interest modes, and user configuration sets for custom default settings.
"The sensitivity and high-speed imaging performance of the CMOSIS CMV2000 and CMV4000 make these truly exceptional sensors," saysVladimir Tucakov, Director of Sales and Marketing at Point Grey. "Integrating them into the extremely compact Grasshopper form factor and pairing them with Camera Link—still the bandwidth king at 680 MByte/s—allows us to bring a very unique product with unbeatable value to the market."
The Gazelleindustrial camera is equipped with an industry-standard C-mount lens holder, removable optical window, two (2) SDR connectors with screw locks, on-board temperature and power sensors, and status LED. Every Gazelle comes with an ASA/ISO-compliant tripod mounting bracket at no extra cost. Additional features include 8- and 10-bit image modes, row windowing with support for up to 8 separate ROIs, the ability to install new firmware versions in the field, reverse imaging (X-Y mirroring), and embedded image information. Using a command set developed by Point Grey in conjunction with external frame grabber software, users can control camera operation and configure properties such as gain, exposure, and black level.
The GZL-CL-22C5M-C (2/3-inch 2048x1088 at 280 FPS), list priced at USD $1,695 and the GZL-CL-41C6M-C (1-inch 2048x2048 at 150 FPS), list priced at USD $2,545, are available to order now from Point Grey and its network of distributors.
SOURCE:Point Grey Research, Inc.

-- Posted byVision Systems Design