Power of the Pen
PC-based vision system equipped with FireWire and Camera Link cameras inspects the quality of pens during manufacture
Mar 1st, 2008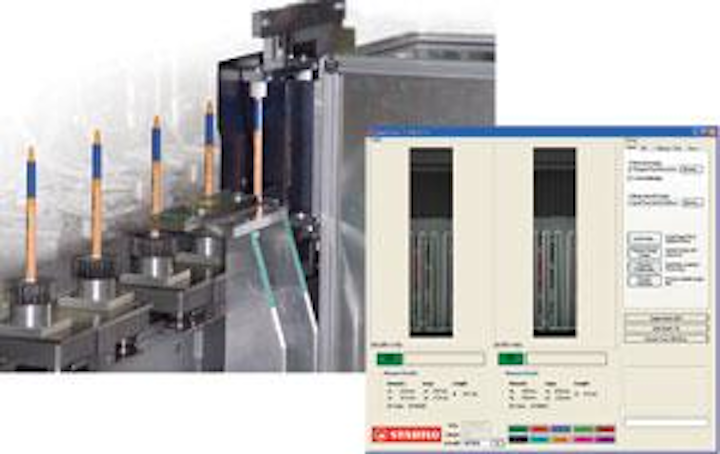 PC-based vision system equipped with FireWire and Camera Link cameras inspects the quality of pens during manufacture
Every year, about 75 million Boss marker and 150 million Fineliner pens are manufactured by Stabilo in the company's plant in Weissenburg, Germany. To produce such a large quantity of pens, the process of injection molding, assembly and filling, packaging, storage, and dispatching is fully automated. When the company developed a system for producing its Point Visco series of pens, it realized that machine vision would play a critical role at every stage of the manufacturing process.
After injection molding, the Point Visco pens are automatically labeled, furnished with a tip, filled with ink, and fitted with a cap. Stabilo realized that a machine-vision system would be needed to check the quality of the labeling and correct positioning of the pen tip. However, since the company did not have the expertise to develop a system, it called upon Stemmer Imaging to develop one. After presenting an initial concept, Stemmer Imaging partner Sidonia Systems developed the final system.
Pen production
Stabilo's Point Visco pens are assembled in a series of steps. First, pen barrels are labeled with the company's logo and a barcode. Then, the labels and barcodes of 40 pens must be checked each minute on two production lines running in parallel. Illuminated with two LEDLINE-150/W-24 white line lights from Volpi, two pen barrels, each on a separate production line, are rotated by 360º and their images captured with two 2k × 1 Camera Link linescan cameras, one on each production line (see Fig. 1).
Linescan images are then reconstructed on a PC and the images evaluated using the Stemmer Imaging Common Vision Blox (CVB) software library: CVB Barcode, CVB Edge, CVB Minos, and CVB Printqual tools. These check the position of the barcode and company logo and the legibility of the barcode. The length of the plastic barrel is also inspected for size, and the white stripes along the side of each barrel are monitored for errors.
Correctly labeled pen barrels are passed to the next production step, where they are fitted with a metal tip with rollerball and then filled with ink. Here they are illuminated using an LDL-TP-27/27R red LED backlight from CCS America. Then two Marlin F-033B FireWire area-scan cameras from Allied Vision Technologies capture images of the metal tips (see Fig. 2). The presence of a rollerball and its length and width are then checked using CVB ShapeFinder and CVB Edge tools.
Both FireWire area-scan cameras are connected to the same PC as the two Camera Link linescan cameras used for labeling inspection. A distance of 13.5 m from camera to computer can be achieved by using FireWire repeaters. A user interface on the PC allows Stabilo staff to visualize the results. On this interface, pen production is also monitored and evaluated statistically, ensuring that errors do not become too frequent or the process strays out of a specific tolerance range.
Reiner Wiedemann is quality manager, Stabilo, Heroldsberg, Germany; www.stabilo.com.
null