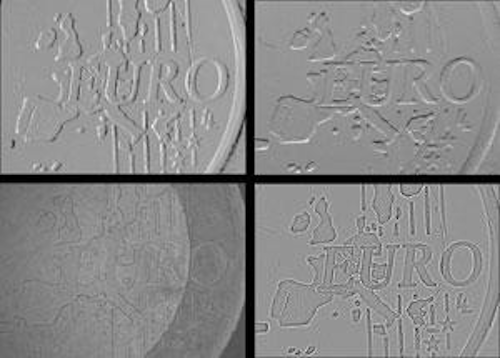 To image highly specular surfaces such as compact-disk artwork and solder pads on printed-circuit boards (PCBs), many machine-vision systems incorporate very uniform lighting in the form of integrating spheres known as cloudy day illuminators (CDIs). By combining brightfield and darkfield illumination methods, these CDIs provide light from all points on a hemispherical dome, creating a consistent diffuse light source and shadow-free illumination. Because of this, CDIs are typically used to remove the contrast of unwanted features, such as that created by the clear-plastic packaging of blister packs, while allowing information about the object within to be imaged.
"When CDIs are used to uniformly illuminate an object," says Christoph Wagner, director of strategic innovation at Ohnmacht & Baumgärtner (OBE; Ispringen, Germany; www.trevista.net ), "only the reflection coefficient of the surface texture is obtained." While this may be useful in many applications, it cannot be used to determine the topographic information of the object."
To do this, Wagner and his colleagues have patented a novel illumination method that uses shape from shading to extract both reflectance and topographic information from images. "In shape from shading, given a gray-level image, the reflected light and the surface shape at each pixel in the image must be recovered. However, this problem is not trivial since for each surface point on the object there are three unknowns, the horizontal and vertical gradient and the reflected intensity," he says.
The method, used by Wagner and his colleagues in the development of their trevista illumination system solves partial differential equations to determine the gradient and curvature of features within an image. Unlike a conventional CDI that uses an array of LEDs placed around the base of the hemispherical dome, the trevista system uses four distinct LED sources.
"The aim of the system is to illuminate the object in an uneven way to obtain a topographic map of the object." Each LED light is turned on and off sequentially and an image of the object is captured. Because the angle of incidence of the light in relation to the CCD camera is different for different partial images, recorded partial images can then be processed to generate topographic images.
Once topographic information in x and y is computed, it can also be used to generate an image that represents the curvature of the object. To demonstrate the effects of this concept, OBE has developed "trevista 20," a system that uses the trevista system coupled to a FireWire matrix camera from Allied Vision Technologies (Stadtroda, Germany; www.alliedvisiontec.com; see figure). "Trevista 100" is a second system, which is used for a field of view of up to 100 mm. For cylindrical objects such as turned parts, trevista 20 is modified using a linescan camera of the L series from Basler Vision Components (Ahrensburg, Germany; www.baslerweb.com).
After images are digitized by the camera, they are transferred to a host PC using a FireWire or Camera Link frame grabber from Matrix Vision (Oppenweiler, Germany; www.matrix-vision.com). "To generate the images of gradient, reflectance, and curvature, OBE embedded its proprietary algorithm as a plug-in in NeuroCheck software from NeuroCheck (Stuttgart, Germany, www.neurocheck.com)," says Wagner. "While image capture and display functions are performed by the NeuroCheck software, image processing is performed by our proprietary software."
Typical applications are inspection of precision machined metal parts for the automotive industry and gold-plated electronic contacts, some with diffuse reflection.