Machine vision helps validate medical products
For more than 20 years, green fluorescent protein markers have been used by biologists as molecular probes.
Oct 1st, 2008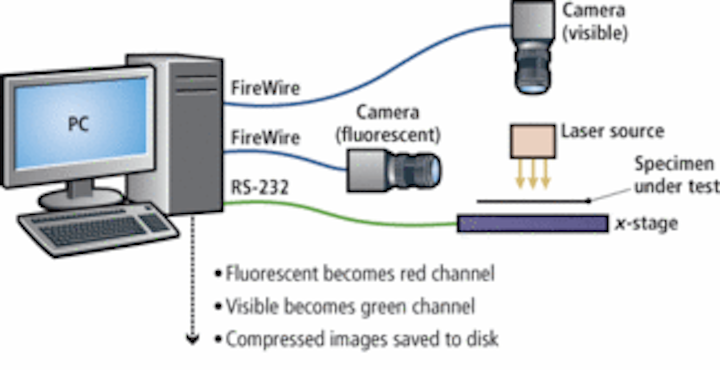 For more than 20 years, green fluorescent protein markers have been used by biologists as molecular probes. To detect specific diseases such as cancer, these protein markers are mixed with a patient's blood on a glass slide to track tagged biomolecules in living cells. To perform such tests, a patient's blood is drawn at a doctor's office and sent to a lab, the blood mixed with protein markers and any fluorescence that may indicate the presence of a disease is noted. The results are then returned to the doctor.
Because this process is time consuming, many biomedical companies are looking to develop products that can allow such tests to be performed in the doctor's office. To accomplish this, one large pharmaceutical company is looking to develop a novel disease testing system based on the action of fluid as it moves through a small glass vial.
"Because these glass vials are designed to be disposable," says Andrew Long, CEO of Cyth Systems (San Diego, CA, USA;www.cyth.com), "fluorescent green protein markers are pre-coated on the inside wall of the tube so that as the fluid moves through the tube, it mixes with the fluorescent marker. By placing the glass vial in a portable imaging system any disease present can be determined. Of course," says Long, "ensuring that the tube is of the correct dimensions, that the proper mixing of fluorescent dye will occur over a given period of time, and that the resulting fluorescence will be bright enough is of prime importance in the development of such devices."
To help researchers determine such parameters, Cyth Systems has custom-built an imaging system that measures the action of fluid flow and how it fluoresces as it moves through the glass tube. "As the fluid moves through the tube," says Long, "its action is similar to that of a wave traveling onto a beach. Researchers need to measure the action of this wave and the amount of fluoresce that emanates from the wave as it mixes with the protein marker as it moves along the tube."
To accomplish this, the system developed by Cyth Systems uses a single-axis motion controller stage from Parker-Hannifin (Cleveland, OH, USA;www.parker.com) that is moved across the field of view of two cameras at the speed of the fluid flow through the tube. By illuminating the device under test with a laser, the marker then fluoresces. Using a beamsplitter mounted above the device, two channels of visible light are directed to two FireWire cameras (see figure). By using a green bandpass filter on one of these cameras, both the visible and fluorescent images are captured into the system's PC host computer.
"In this system," says Long, "there is no image processing per se. Rather, the two channels of visible and fluorescence information are both first compressed and stored in real time on the hard drive of the PC." As images are captured, they can both be displayed independently or displayed as superimposed images. By superimposing the images, the level of fluorescent and visible images can be thresholded to allow researchers to visualize the exact position of the protein markers as the fluid flows along the tube.
To provide an integrated video capture and motion control capability, Cyth Systems used Vision Builder for Automated Inspection from National Instruments (NI; Austin, TX, USA;www.ni.com). While Vision Builder allowed images to be captured and displayed, Cyth Systems used its own in-house developed Vision Builder for Automated Inspection product steps to control the motion of the stage and image compression function, and provide statistical data such as the rate of fluid flow and luminous intensity of the protein marker.
Interestingly, the development of such systems that label proteins with fluorescent tags and use optical techniques to detect them may be eclipsed by other electronic-based methods. Recently, Christoph Wälti and Giles Davies at the University of Leeds (Leeds, UK;www.leeds.ac.uk), for example, developed a system that uses electrodes instead of conventional glass slides so that a clinician might take a blood sample, place it over an electrode array, and determine immediately that a cancer is present and what the origin of that cancer might be.
To accomplish this, Wälti and Davies created peptide aptamers-artificial antibodies that bind to specific proteins-and attached them to microscopic electrodes. When a target protein binds to an aptamer, the electrodes generate an electronic signal, immediately indicating the presence of the protein. Their findings were reported in the January 2008 issue of the Journal of Biology (http://jbiol.com/content/7/1/3).