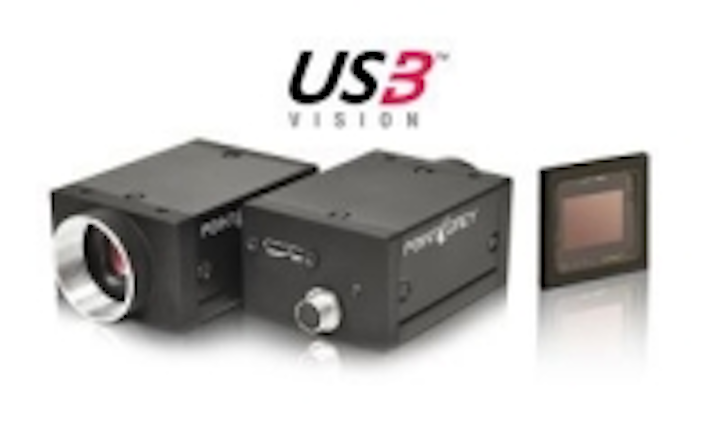 Point Grey will have live demonstrations of the first machine vision camera that features Sony's new global shutter 2.3 MPixel IMX174 CMOS image sensor, as well as its Blackfly GigE camera range, at the AIA Vision Show in Boston from April 15-17. The GS3-U3-23S6C-C (color) and GS3-U3-23S6M-C (mono) Grasshopper3 camera features a 5.86 µm x 5.86 µm pixel size and achieves frame rates up to 162 fps. The Blackfly camera line ranges from 0.3 to 5 MPixels and offers both CCD and CMOS models and frame rates up to 84 fps. The Blackfly cameras also feature Power over Ethernet and GigE Vision.
AIA Vision Show booth number: 516
To Learn More:

Contact:Point Grey
Headquarters: Richmond, BC, Canada
Product: Grasshopper 3 cameras, Blackfly cameras, and Ladybug5 cameras.
Key Features: Sony global shutter CMOS, 162 fps (Grasshopper3), Power over Ethernet, 0.5 MPixel to 5 Mpixel, CCD/CMOS sensors (Blackfly.)

What Point Grey says:
View more information on Grasshopper3 cameras.
View more information on Blackfly cameras.

View More Products| Locate a vendor or system integrator | Receive e-mail updates
Share new products that you think are particularly interesting or helpful by contacting James Carroll, Senior Web Editor, Vision Systems Design.
Join our LinkedIn group | Like us on Facebook | Follow us on Twitter | Connect on Google +