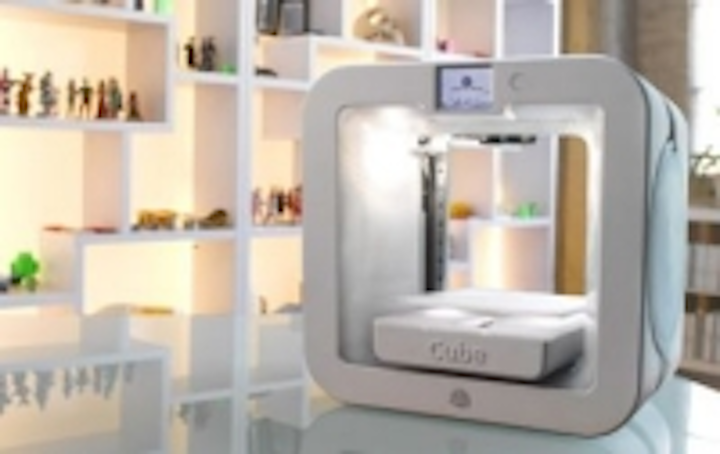 Let's say you work at a company that develops cameras, connectors for camera cables, or even something like a handheld embedded medical imaging system. For the sake of an example, let's say you've designed a camera casing on a CAD system, but need to get the complete mechanical housing off to your colleagues in the electrical engineering department to see if the printed circuit boards in the camera properly mount into the enclosure.
Rather than sending the CAD file to an outside metal fabrication shop, you could use 3D printing to print out a plastic version. If the folks in electrical engineering are pleased, then you can proceed. If not, you go back and redesign and reengineer the mechanical design and print out another one. This would save you not only time and effort, but also money, since the CAD file won't be sent to the outside company for prototyping.
That's the idea behind products such as the Cube 3, a sub-$1,000 consumer plug and play 3D printer designed for everyday use from 3D Systems unveiled at the 2014 Consumer Electronics Show (CES 2014),
The Cube 3 is a 13.3" x 13.3" x 11" (deep), 17 lb. plastic jet printer that can create a maximum 3D printed model of 6 x 6 x 6 inches. It features an auto-leveling print pad and 75 µm layer thickness prints. According to a press release on the printer, the Cube 3 now prints in two materials and up to two colors simultaneously, using PLA recyclable ABS plastics. (In total, the Cube 3 can print in more than 20 colors in synchronous multi-materials and color combinations.) It also features an instant load cartridge and is enabled for mobile printing directly from the app, which is available for iOS, Android, and Windows.
However, as with all things in imaging, beware of the accuracy and precision you can obtain with the printer. If not, the folks in electrical engineering will not be pleased.