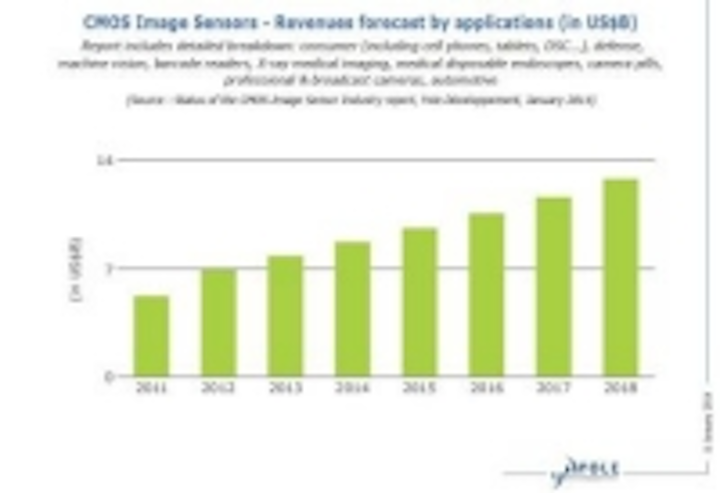 As certain technologies begin to emerge and reshape the industrial landscape, CMOS image sensors are expected to see a significant increase in global sales, according to a report from Yole Développement. Specifically, a 10% compound annual growth rate is expected to help the CMOS image sensor market grow to a total value of $13 billion by 2018.
The report analyzed the technologies used and associated with new applications, including mobile technologies, which are expected to be a primary driver of growth. Yole suggests that consumer applications like tablets and digital still cameras will contribute to the rise in global sales as manufacturers shift away from CCD image sensors, and toward CMOS. In addition, automotive applications could potentially be the third main market associated with growth, as additional applications emerge that requires CMOS image sensors. Applications within the automotive industry that will demand new technologies include high dynamic range sensors and near infrared response needs.
Additional applications that will reportedly drive the growth of CMOS image sensors include machine vision, wearable electronics, security and surveillance, and medical imaging applications, which are all poised for strong growth in the mid and long-term picture, according to the report.
Yole Développement also suggests that CMOS image sensors are undergoing major technological innovations. The race towards smaller pixels (thus a smaller light-receiving photodiode area) to achieve better resolution also leads to pixel performance degradation. This is due to the degradation of signal-to-noise ratio and well capacity in the image sensor. Thus, to cope with the loss of resolution coupled with pixel size reduction, heavy process and design innovations are necessary to overcome the limitation of conventional pixel performance to move to advanced pixel technology, while maintaining high sensitivity, according to the report.
Additional information on the report on CMOS image sensors will be available on i-Micronews.com this week. Dr. Eric Mounier of Yole Développement will also answer questions related to the report on an interactive Yole WebTalk on January 23. To submit questions and to register for the WebTalk, email Clotilde Fabre by clicking here.
View the i-Micronews.com website.
View the Yole Développement website.
Also check out:
SPIE Photonics West 2014 preview: Cutting edge optics and photonics
(Slideshow) The 12 months of vision: A holiday review of the year in machine vision
International Machine Vision Standards meeting sees a number of key developments
Share your vision-related news by contacting James Carroll, Senior Web Editor, Vision Systems Design
To receive news like this in your inbox, click here.
Join our LinkedIn group | Like us on Facebook | Follow us on Twitter | Check us out on Google +