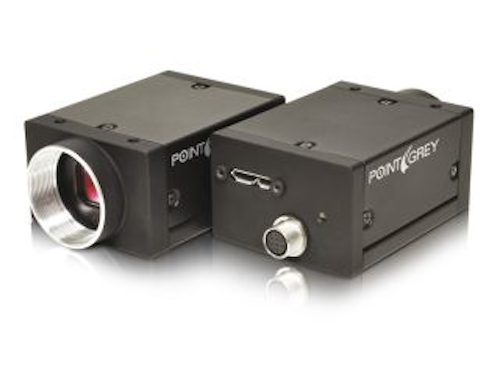 Point Grey's 2.3 MPixel GS3-U3-23S6M-C Grasshopper3 camera is the first to feature Sony's Exmor IMX174 global shutter image sensor. The 1/1.2" sensor has a pixel size of 5.86 µm x5.86 µm and offers a pixel size of 1920 x 1200 and frame rates up to 162 fps, while enabling the capturing of fast-moving images without motion distortion caused by rolling shutter sensors. In addition, the camera features high-speed triggering, region of interest functionality, and a USB 3.0 interface. The IMX174 and GS3-U3-23S6M-C are suitable for use in industrial and scientific imaging applications.
To Learn More:
Contact:Point Grey
Headquarters: Richmond, BC, Canada
Product: GS3-U3-23S6M-C Grasshopper3 USB 3.0 camera
Key Features: 1/1.2" Sony Exmor IMX174 image sensor with of 5.86 µm x5.86 µm pixel size, maximum frame rate of 162 fps, USB 3.0 interface.

What Point Grey says:
View more information on the GS3-U3-23S6M-C camera.

View More Products| Locate a vendor or system integrator | Receive e-mail updates
Share new products that you think are particularly interesting or helpful by contacting James Carroll, Senior Web Editor, Vision Systems Design.
Join our LinkedIn group | Like us on Facebook | Follow us on Twitter | Connect on Google +