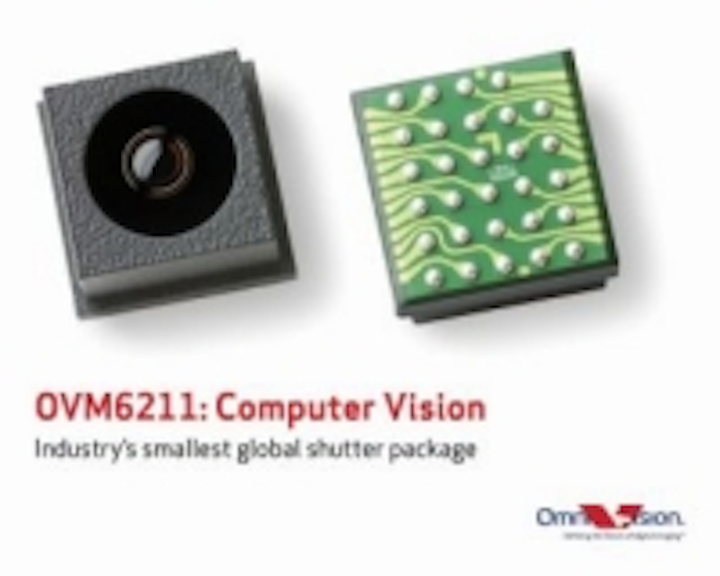 OmniVision Technologies, Inc. has released the OVM6211 CameraCubeChip, a complete global shutter camera solution that is capable of capturing full resolution (400 x 400 pixels) video at 120 fps. The OVM6211 is built on OmniVision's 3 µm OmniPixel3-GS global shutter pixel and brings machine and computer vision capabilities such as gesture recognition, eye tracking, and motion detection to smartphones, notebooks, and wearable devices. In addition, the OVM6211 features programmable controls for frame rate, mirror and flip, cropping, and windowing, and supports 8 and 10bit RAW output. The black and white OVM6211 will be available in two packages. The OVM6211-RADA, which is intended for human interface systems such as eye tracking, will have a narrow field of view (FOV) at approximately 50°, and the OVM6211-RAHA, which intended for applications such as gesture recognition and wearable devices, will have a FOV wider than 90°.
To Learn More:

Contact:OmniVision
Headquarters: Santa Clara, CA, USA
Product: OVM6211 CameraCubeChip
Key Features: 3 µm global shutter pixel, automatic black level calibration, 400 x 400 CMOS sensor, programmable camera controls, 120 fps at full resolution.
What OmniVision says:
View more information on the OVM6211 CameraCubeChip.
View More Products| Locate a vendor or system integrator | Receive e-mail updates
Share new products that you think are particularly interesting or helpful by contacting James Carroll, Senior Web Editor, Vision Systems Design.
Join our LinkedIn group | Like us on Facebook | Follow us on Twitter | Connect on Google +