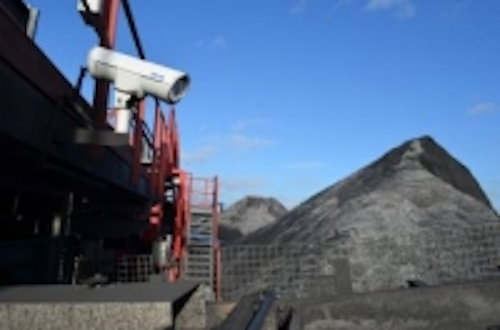 When storing or loading large amounts of coal, self-combustion is a safety hazard, as the temperature of coal rises and can ignite when exposed to oxygen. To avoid this, dry bulk terminal company OBA had infrared cameras installed to monitor coal temperatures that signal potential hazards before they occur.
For OBA, a company that operates in the ARA region (Amsterdam, Rotterdam, and Antwerp), 80% of their business involves the storage and handling of coal. For some coal types, it isn't a matter of "if" it will happen; it is a matter of "when." Dick Meijer, Planner at OBA said that self-combustion is a thing that needs to be something that is taken into account every day.
"To prevent it from happening, we need to take the appropriate measures. More specifically, we send out an excavator or wheel loader to dig out and spread the suspected area," he said in the case study. "And we have dedicated combustion fighting equipment that allows us to compact the area and to release the oxygen out of the coal stack."
In order to prevent losses of energy and quantity, as well as prevent safety and environmental hazards, OBA had three FLIR A310f cameras installed, each of which is positioned on a tower with a wide view overlooking several conveyor belts that deliver the coal to barges. A310f cameras feature a 320 x 420 uncooled microbolometer focal plane array with a 7.5 µm to 13 µm pixel size and 25 µm detector pitch. The camera also features IP66 protective housing, Power over Ethernet, built-in spot and area temperature measurement analysis functionality, and extensive alarm functionality.
By positioning the cameras as close to the barges as possible, OBA can visualize the entire conveyor belt stretch (up to 900 meters), and monitor the coal temperatures up to the last second before loading, which helps prevent the risk of a combustion incident onboard. Images captured by the cameras are sent over IP to a central control room where they are continuously monitored.
View other items from our July 7 e-newsletter.
Page 1 | Page 2