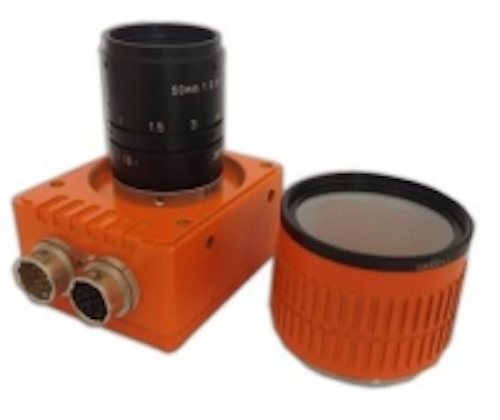 Eye Vision Technology's latest smart camera, the RazerCam, features built-in FPGA image processing and is equipped with an 800 MHz and 1 GHz dual core ARM Cortex. The RazerCam is available in three different models: a 0.4 MPixel area scan model, a 3 MPixel area scan model, and a 4K line scan model. The 0.4 MPixel model features a 1/3" CMOS image sensor with 8/10-bit pixel depth and achieves a frame rate of 60 fps while the 3 MPixel model has a 2/3" CMOS sensor, 8/12-bit pixel depth, and a top frame rate of 30 fps. The 4096 x 1 line scan model features a 2/3" CMOS sensor, 8/10-bit pixel depth and a frame rate of 10,000 fps. RazerCam cameras are also equipped with a LINUX operating system, allowing the user to start programming immediately with standard tools for LINUX. In addition, the cameras feature a GigE interface, integrated EyeVision software, a built-in LED driver, and up to 10 programmable I/OS. The RazerCam is suitable for use in factory automation and high-speed inspection applications.
To Learn More:
Contact:Eye Vision Technology
Headquarters: Karlsruhe, Germany
Product: RazerCam smart camera
Key Features: 0.4 MPixel area scan model, 3 MPixel area scan model, 4K line scan model, CMOS image sensors, GigE interface, FPGA, programmable I/Os.
What Eye Vision Technology says:
View a press release on the RazerCam smart camera.

View More Products| Locate a vendor or system integrator | Receive e-mail updates
Share new products that you think are particularly interesting or helpful by contacting James Carroll, Senior Web Editor, Vision Systems Design.
Join our LinkedIn group | Like us on Facebook | Follow us on Twitter | Check us out on Google +