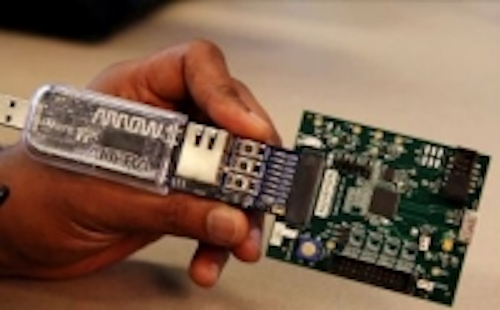 Cypress Semiconductor Corp. and EverPro Technlogies Ltd. have announced successful interoperability between both Cypress's EZ-USB FX3 USB 3.0 peripheral controller and its EZ-USB CX3 camera controller and EverPro's U3C A010-100 USB 3.0 active optical cable.
With the A010-100 USB 3.0 cable, full USB 3.0 performance is extended up to 100 meters, which allows Cypress USB 3.0 solutions to be deployed across a wider range of machine vision and industrial applications, removing cable length limitations in camera placement and installation, according to the press release.
"We are very pleased to have validated the interoperability of EverPro's AOC with FX3 and CX3," said Mark Fu, senior marketing director of Cypress's USB 3.0 Business Unit. "USB 3.0 cable length extension has been a common request from our machine vision customers. We can now recommend a proven solution to our FX3 and CX3 customers."
The Cypress EZ-USB FX3 is a USB 3.0 peripheral controller that enables developers to add USB 3.0 device functionality to any system. It is equipped with a configurable General Programmable Interface (GPIF II) which can be programmed in 8-, 16-, and 32-bit configurations with data rates as high as 400 Mbps. GPIF II enables the controller to interface directly with nearly any processor, ASIC, or FPGA.
The Cypress EZ-USB CX3 USB 3.0 programmable camera controller enables developers to add USB 3.0 connectivity to any image sensors supporting the Mobile Industry Processor Interface (MIPI) Camera Serial Interface Type 2 (CSI-2) standard. CX3 is suited for use in high-speed image capturing applications and is capable of streaming uncompressed video at 1080p at 30 fps or 720p at 60 fps.
View the press release.
Also check out:
Choosing optical filters for machine vision systems
Solar blind filters enhance ultraviolet imaging
Vision system inspects bottle caps at high speed
Share your vision-related news by contacting James Carroll, Senior Web Editor, Vision Systems Design
To receive news like this in your inbox, click here.
Join our LinkedIn group | Like us on Facebook | Follow us on Twitter | Check us out on Google +