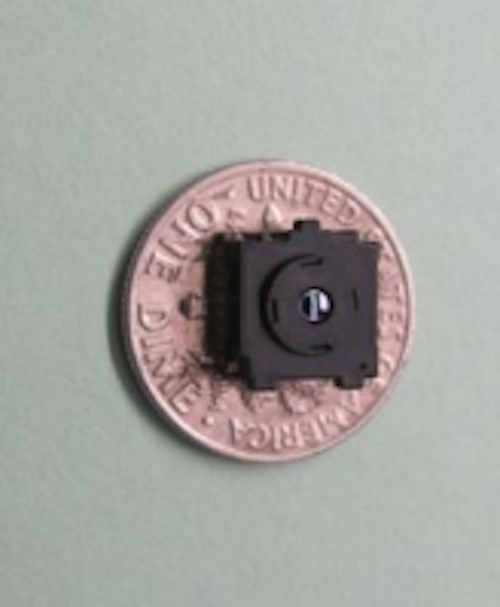 FLIR Systems, Inc. will showcase its Lepton thermal imaging camera core that is about the size and weight of a conventional CMOS cell phone camera module, at SPIE DSS 2014 from May 5-9 in Baltimore, MD. The Lepton features an 80 x 60 uncooled VOx microbolometer array with a pixel size of 17 µm x 17 µm and an exportable frame rate of 9 Hz. Lepton is designed for integration into third party products such as smartphones, tablets, diagnostic tools, automobiles, and OEM applications. The 8.5 x 8.5 x 5.9 mm fixed focus camera features a spectral range of 8 µm to 14 µm, 50° horizon field of view, and thermal sensitivity of <50 mK. Lepton utilizes wafer-level detector packaging, wafer-level micro-optics, and a custom integrated circuit that supports all camera functions on a single integrated low power chip. The FLIR ONE, which transforms an iPhone into an infrared imaging camera, was developed with the Lepton camera core.
SPIE DSS 2014 booth number: 709, 881
To Learn More:
Contact:FLIR
Headquarters: Wilsonville, OR, USA
Product: FLIR Lepton
Key Features:80 x 60 uncooled VOx microbolometer array, 9 Hz frame rate, 17 µm x 17 µm pixel size, spectral range of 8 µm to 14 µm.

What FLIR says:
View more information on the FLIR Lepton.

View More Products| Locate a vendor or system integrator | Receive e-mail updates
Share new products that you think are particularly interesting or helpful by contacting James Carroll, Senior Web Editor, Vision Systems Design.
Join our LinkedIn group | Like us on Facebook | Follow us on Twitter | Connect on Google +