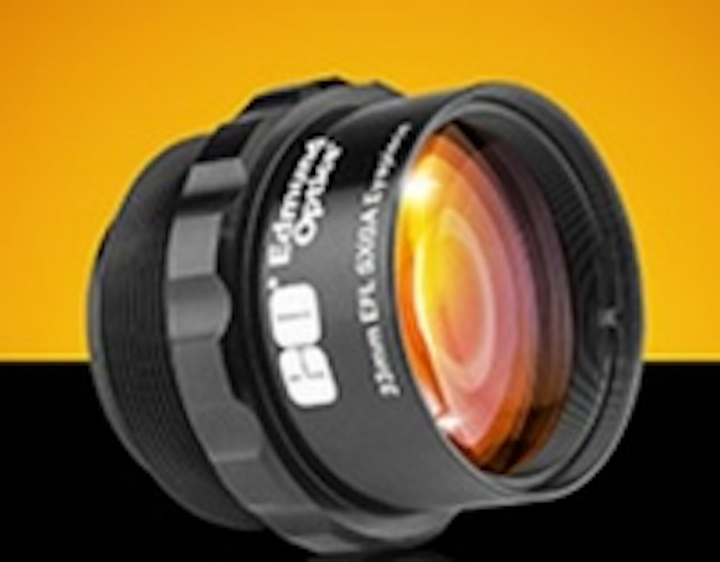 Edmund Optics will provide a live demonstration of its TECHSPEC microdisplay eyepiece—which is a commercial off-the-shelf assembly designed for use in commercial or security applications—at SPIE DSS 2014 from May 5-9 in Baltimore, MD. The eyepiece contains color-corrected glass optics with a broadband AR coating and features a 40° field of view with less than 5% nominal distortion in addition to a 25mm eye relief. These TECHSPEC eyepieces are compatible with up to 24.59mm diagonal microdisplay and are also available in an unmounted component kit. In addition, the aluminum-housed eyepiece weighs 112g and is suitable for integration into infrared, SWIR, night vision, virtual reality, or augmented reality systems.
SPIE DSS 2014 booth number: 762
To Learn More:

Contact: Edmund Optics
Headquarters: Barrington, NJ, USA
Product: TECHSPEC microdisplay eyepieces
Key Features:Compact COTS assembly, compatible with up to 24.59mm diagonal microdisplay, 40° field of view, broadband AR coating.

What Edmund Optics says:
View more information on TECHSPEC microdisplay eyepieces.

View More Products| Locate a vendor or system integrator | Receive e-mail updates
Share new products that you think are particularly interesting or helpful by contacting James Carroll, Senior Web Editor, Vision Systems Design.
Join our LinkedIn group | Like us on Facebook | Follow us on Twitter | Connect on Google +