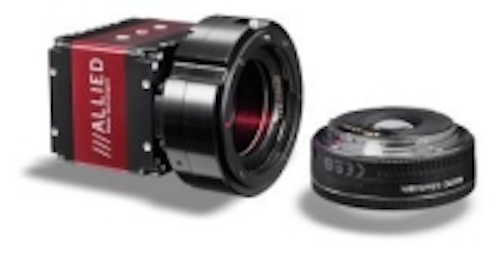 At VisionChina 2014 in Shanghai, Allied Vision Technologies will showcase its Goldeye infrared cameras, Mako industrial GigE cameras, and Prosilica GT GigE cameras with lens control. AVT's new Goldeye infrared camera is a short-wave infrared model model with sensitivity between 900 and 1,700 nm wavelengths, and features rugged hardware for machine vision applications and a screwed interface port for secure connection. It also features a GigE Vision-compliant interface with support for Power over Ethernet and can be fitted with filters and lenses for C-, F-, and M42-Mounts.
AVT will also showcase its latest Prosilica GT camera (pictured) with an EF-mount option for high-resolution models of the camera series. With this new mount, standard motorized lenses can be controlled via the camera to capture images in different focus areas. Settings can be remotely adjusted via the AVT software kit, which can be useful in traffic applications monitoring several lanes at once, or in specific industrial inspection applications to replace several cameras focused on different focal points.
In addition, AVT will showcase its Mako GigE cameras, which feature Power over Ethernet, three optocoupled outlets, and a 64 MB image buffer. AVT will showcase its latest Mako cameras, including models with CCD and CMOS image sensors from 0.3 to 5 MPixels in size.
VisionChina booth number: Hall E1 – Booth 1140
To Learn More:

Contact:Allied Vision Technologies
Headquarters: Stadtroda, Germany
Products: Goldeye infrared cameras, Mako cameras, Prosilica GT cameras.
Key Features: 900-1,700 nm wavelengths, GigE Vision compliant interface, frame rates up to 100 fps, 640 x 512 pixels (Goldeye), Sony ICX and Truesense CCD image sensors, GigE Vision interface, lens control (Prosilica), Power over Ethernet, GigE Vision, CCD/CMOS image sensors (Mako).
What AVT says:
View more information on Goldeye cameras.
View more information on Prosilica GT cameras.
View more information on Mako cameras.

View More Products| Locate a vendor or system integrator | Receive e-mail updates
Share new products that you think are particularly interesting or helpful by contacting James Carroll, Senior Web Editor, Vision Systems Design.
Join our LinkedIn group | Like us on Facebook | Follow us on Twitter | Connect on Google +