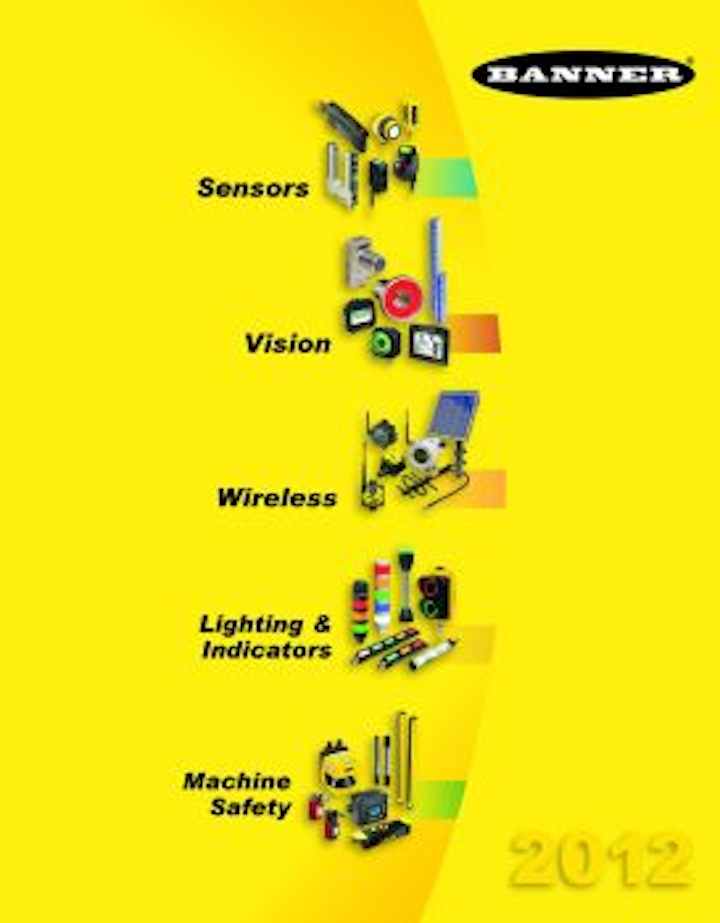 The new 2012 Product Catalog is available in a full-color print and an interactive online version. With more than 875 pages of product features, application images, model numbers, and accessories, the catalog serves as a comprehensive listing of all Banner's available products from each of the company's five product lines: sensors, lighting and indicators, machine vision, wireless, and machine safety. Organized using the same layout and content as the print edition, the online version also features a search tool that allows quick, efficient navigation of the entire catalog.
Banner Engineering
Minneapolis, MN, USA
-- Posted by Vision Systems Design

View More Vision+Automation Products

Locate a vendor or system integrator in our Online Buyer's Guide

---
NEW PRODUCT PRESS RELEASE
Banner's 2012 Product Catalog Provides a Single Source for Automation Solutions
Banner Engineering 2012 Product Catalog

Minneapolis, MN—Banner Engineering introduces its new 2012 Product Catalog in both a full-color print and an interactive online version. With more than 875 pages of product features, application images, model numbers and accessories, the catalog serves as a detailed, comprehensive and user-friendly listing of all Banner's available products from each of the company's five diverse product lines: sensors, lighting and indicators, machine vision, wireless and machine safety. Organized using the same layout and content as the print edition, the interactive online version also features a powerful search tool that allows quick, efficient navigation of the entire catalog.
The catalog's "What's New" section introduces users to a number of Banner's innovative new products, including:
Sensors
a.. Q26 Clear Object Detection
b.. DF-G1 Amplifier
c.. R58B Expert Registration Mark Sensor

Wireless
a.. DX80 Performance Series
b.. New DX80 Multihop Models
Lighting & Indicators
a.. WL50S with New Colors
b.. WLS28 with Push Button and New Colors
c.. WLA with Lenses
d.. TL50BL Beacon Tower Light
e.. K50BL Beacon Light
f.. K30 Push Button
Machine Safety
a.. EZ-Mount Flush Mount E-Stop
b.. 30 mm Mount E-Stop
Banner's 2012 Product Catalog features color-coded tabs that correspond with product divisions listed in the table of contents, making navigation effortless. Further, to aid in proper product selection, the catalog not only allows users to compare product features and performance through the convenient selection guide, but also demonstrates how its industrial automation products can be applied in a number of applications through detailed illustrations. Page references are included to efficiently guide users to additional information on each product demonstrated. This resource also contains more than 100 pages of accessories, including mounting brackets, cordsets, retroreflectors and enclosures. For an additional reference tool, the online version provides links throughout the product sections, directing users to detailed product data and assisting in accessory selection.
Banner's 2012 Catalog is available free of charge. Request a catalog online at http://www.bannerengineering.com/en-US/catalog-request or call 1.888.373.6767.
Banner's 2012 Interactive Catalog can be found at http://www.hessprintsolutions.com/de/final_Banner2/
About Banner. Banner Engineering is a world leading manufacturer of photoelectric and ultrasonic sensors, indicator lights, vision sensors and vision lighting, electronic machine guarding systems, wireless networks, fiber optic assemblies and precision measurement systems.
For further information, contact Banner Engineering Corp., 9714 Tenth Avenue North, Minneapolis, MN 55441. PH: 888.373.6767 (Toll-free North America), or 001.763.544.3164 (International). FAX: 763.544.3213. Email: sensors@bannerengineering.com. E-commerce: www.bannerengineering.com/buyonline.
SOURCE: Banner Engineering