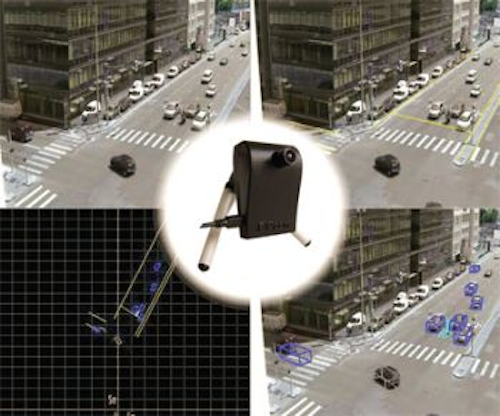 BIPcam is a smart camera that is able to detect color, movement, and the structure of objects in real time, suitable for applications such astraffic management, driver assistance, or video security/surveillance systems. BIPS, a bio-inspired perception system technology detects nine main data flows. A task manager automatically controls measurements and statistics, synchronizing multiple tasks. An open-source software developer's kit (SDK) is included, which contains demonstrations such as a minimal video security application. The smart camera captures a video stream from a CMOS VGA sensor with 720 x 480-pixel resolution, with processing at 60 frames/sec over a USB 2.0 interface. UDP/Ethernet protocol can be implemented using the SDK
Brain Vision Systems (BVS)
Paris, France
-- Posted byVision Systems Design

View More Vision+Automation Products

Locate a vendor or system integrator in our Online Buyer's Guide

---
NEW PRODUCT PRESS RELEASE
BVS'S SMART CAMERAS BIPCAM EMULATE HUMAN VISION
Paris -- French firm BVS (Brain Vision Systems) design and manufacture bio-inspired perception systems emulating Human vision.
BIPcam is a smart camera detecting in real-time colors, movements and the structure of any kind of objects. It can be used in various applications as traffic management, driving assistance application, or video security.

A SMART CAMERA EMULATING HUMAN VISION
BVS's smart camera BIPcam incorporates BVS's BIPS technology, a bio-inspired perception system, featuring similar skills as a Human brain: perception, understanding, and action command. It detects in real-time 9 main data flows to analyze color, motion and structure of one or multiple objects.
The smart camera tracks colored objects and is able to spot the different colors in it evaluating the luminance, the color saturation and hue, even in low light density environments. The camera also features motion tracking: it reacts instantaneously to the velocity, direction and variability of moving objects and anticipates their trajectory. It recognizes the structure of objects: curves, oriented edges and edge magnitude.
Measures and statistics of those flows are automatically controlled by a task manager. The latter allocates one or multiple sophisticated tasks and simultaneously synchronizes their computation in a hardware unit, to facilitate data storage. The tracking of multiple objects with the same characteristics can be implemented thanks to multi-tasking. To develop the source code, an open source software development kit (SDK) is delivered with the product. The SDK contains various demonstrations such as a minimal video security application.
CHARACTERISTICS
BIPcam captures a video stream coming from a CMOS VGA video sensor with a 720x480 resolution, allowing a high quality and fast processing of 60 frames per second. It is linked to the PC with a USB 2.0 interface to enable a high speed rate. Additionally, a UDP/Ethernet protocol can be implemented following the instructions of the SDK. The camera has a sturdy constitution and its time of use is optimum thanks to the quality of its components.
VISION APPLICATIONS
Smart camera BIPcam can easily be incorporated in any kind of vision applications. It is a standardized and auto-adaptable product taking little space, low weighted (72g) with low energy consumption (2.5 watts).
It can be used in a driving assistant application, as it can track road lines, memorizing soil color (road, white lines), bends and road inclines. The analysis of road traffic can also be implemented with the smart camera, which is able to estimate speed, the number of vehicles on the road or their trajectory so that traffic management and control are facilitated.
For more information, please contact Cindy Deguingand +33(0)9 54 21 12 67 or cindy.deguingand@vivavoice.fr
Other BIPS standardized products as BIPeye and BIPnet can work independently from the PC thanks to integrated RAM, Flash Memory and processor. BIPeye is mostly used in robotics as its BUS CAN interface controls motors. BIPnet features an Ethernet interface allowing a high speed transfer of data. As BIPS can also be adapted to OEM products, BVS research and development laboratory also designs specific applications in collaboration with their customers.
SOURCE:Brain Vision Systems