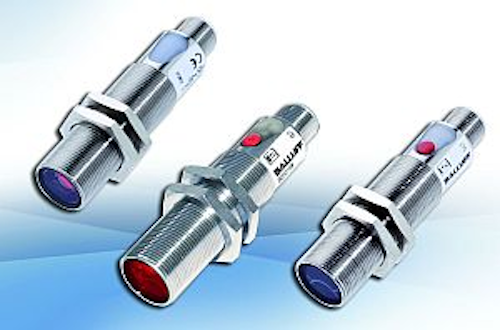 BOS 18M photoelectric sensors provide long sensing distance and high function reserve. Models include energetic diffuse, retro-reflective, and thru-beam, which are available as red light and infrared types. The series of red light sensors also includes a version with background suppression. They offer low gray value shift of ~1% at 100 mm.
Balluff
Florence, KY, USA
-- Posted by Vision Systems Design

View More Vision+Automation Products

Locate a vendor or system integrator in our Online Buyer's Guide

---
NEW PRODUCT PRESS RELEASE
New photoelectric sensor family from Balluff – rugged, high performance, and long range
Florence, KY: The new generation of BOS 18M photoelectric sensors from Balluff demonstrate expertise in every form of light for maximum precision throughout the product range. These sensors feature a generous sensing distance and high function reserve. Models include energetic diffuse, retro-reflective and thru-beam, which are available as red light and infrared types. The series of red light sensors also includes a version with high-performance background suppression.
Common to all the sensors is the uniform, rugged metal housing. This offers great design freedom and even allows red light and infrared types to be easily interchanged. The highlight in the truest sense of the word is the highly visible, far-reaching light spot. The newest LED technology and most modern Fresnel lenses ensure sharp contours which precisely reproduce the switching area. This means the sensors can even be used in daylight or strongly illuminated indoor areas and can be quickly and precisely aligned. With their exact switching response and repeat accuracy, the BOS 18M sensors are ideal for demanding positioning tasks. Optical band-pass filters provide extremely high ambient light rejection from sunlight or other artificial light sources.
All red light and infrared models feature a potentiometer for precise setup. Adjustment is also aided by highly visible LED indicators. For users who prefer the teach-in procedure for setup, the red light sensors (energetic diffuse, retro-reflective and thru-beam) are available in corresponding versions.
The BOS 18M with background suppression are unique. These are the only sensors of their kind to be equipped with a sensitive multi-turn potentiometer for setting the distance down to millimeter accuracy. The range of up to 300mm is also reliable when the target is a dark object. These sensors also stand out with their very low gray value shift at close range (~1% at 100mm). This enables color-independent object detection even against reflective backgrounds.
Objects with notches, holes or cut-outs are often a challenge for sensors – but not for the BOS 18M, since these gaps are simply bridged by the large light spot. This allows even coil springs for example to be reliably detected regardless of orientation.
See Balluff's full range of photoelectric sensors at www.balluff-usa.com/photoelectric
About Balluff:
Balluff Inc., the U.S. subsidiary of Balluff GmbH, Neuhausen, Germany, is a leading manufacturer of a wide range of inductive, photoelectric, vision, capacitive and magnetic sensors as well as linear position transducers, RFID systems, and networking products. Balluff products for OEM and factory floor solutions are used to control, regulate, automate, assemble, position, and monitor manufacturing, assembly, and packaging sequences for industries including: metalworking, automotive, plastics, material handling, wood processing, aerospace, alternative energy, medical, electrical, and electronics.
SOURCE: Balluff