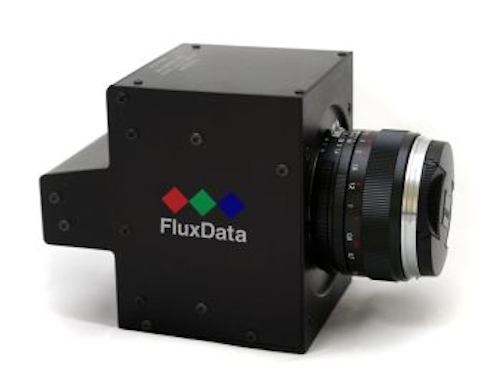 The FD-3SWIR camera offers three indium gallium arsenide (InGaAs) sensors fitted with custom optical filters to simultaneously capture multispectral sub-pixel aligned video through a single aperture lens. The shortwave-infrared (SWIR) camera is able to capture parallax-free synchronized video at three discrete wavelength ranges from 700-1700 nm. It operates without temperature stabilization using nonuniformity corrections (NUC) parameterized over temperatures, and is designed with small size, weight, and power (SWaP) to support intelligence, surveillance, and reconnaissance (ISR) applications. The camera can be custom configured for specific customer needs.
FluxData
Rochester, NY, USA
-- Posted by Vision Systems Design

View More Vision+Automation Products

Locate a vendor or system integrator in our Online Buyer's Guide

---
NEW PRODUCT PRESS RELEASE
Rochester, NY
FluxData, Inc. introduces the first commercially available common aperture three sensor multispectral SWIR camera. The FluxData FD-3SWIR camera offers three InGaAs sensors fitted with customer specified optical filters to simultaneously capture sub-pixel aligned video through a single aperture lens.
FluxData has chosen Goodrich's Sensors Unlimited, the industry leader in SWIR sensors, as a partner in this product. The Goodrich SUI C-Platform camera features 640 x 512 pixel resolution with a 15-micron pitch. The Camera Link digital output offers plug-and play connectivity, 12-bit imagery for viewing, digital processing and/or transmission. The uncooled SWIR detector images in real-time video (30Hz). It operates without temperature stabilization using non-uniformity corrections (NUC) parameterized over temperatures. It also provides on-board automatic gain control (AGC).
Goodrich's SWIR C-platform model operates from 0.9 to 1.7 micron spectral range; the optional near infra-red (NIR) camera model extends the spectral response to include the range from 0.7 to 1.7 microns. The camera operates in a wide temperature range from -35 degrees C to +71 degrees C. The FD-3SWIR has a total power consumption of 4.5W.
The flexibility of FluxData's multi-sensor system along with the small size of the C-platform allows for a multitude of new spectral and polarimetric configurations for various applications, con-ops and payloads.
Examples include:
3xSWIR (FD-3SWIR): Single lens, simultaneous synchronized video capture of any three discrete spectral wavelength bands between 700-1700nm using three InGaAs sensors.
Visible+NIR+SWIR (FD-VNS): Single lens, simultaneous synchronized video capture of mono or RGB Visible (400-700nm), Near Infrared (700-1000nm) and Short Wave Infrared (900-1700nm) using two CCDs and one InGaAs sensor.
Visible+2xSWIR (FD-V2SWIR): Single lens, simultaneous synchronized video capture of mono or RGB Visible, and any two SWIR wavelengths (700-1700nm).
Polar-SWIR (FD-PolSWIR): Single lens, simultaneous synchronized video at 0/45/90 or 0/60/120 degree linear polarization configurations.
Custom: Any combination of CCD or InGaAs sensors, with any spectral wavelength filter or linear polarizer.
Pano Spiliotis, CEO of FluxData, Inc. states, "We are extremely excited about the release of the FD-3 SWIR, three sensor InGaAs camera system. For the first time users will be able to capture parallax free synchronized video at three discrete wavelength ranges from 700-1700nm. The small size, weight and power (SWaP) will provide for smaller payloads that combine multiple detection modalities into a single system and allow real-time image fusion with minimal processing, ideal for many ISR and DoD applications."
"Goodrich's industry-leading SWIR cameras continue to advance the capability and set the standard for performance and SWaP. Goodrich's new uncooled C-Platform cameras offer breakthrough form factor and power levels that enable con-ops which, until now, were unachievable," said John Trezza, Vice President of Goodrich's ISR Systems, Force Protection Business.
FluxData will work with customers to design a purpose-built configuration that meets their specific requirements. Standard configuration systems can be made to order for delivery in 4-6 weeks.
About FluxData, Inc.:
FluxData develops and manufactures multispectral and polarimetric imaging systems for aerospace, defense, industrial, medical and scientific markets. FluxData is a privately held, woman owned company located in Rochester, NY. FluxData's imaging and system integration expertise helps guide customers from camera specification to delivery of the final system. Their staff of imaging experts works with customers to frame the problem, and deliver an optimized system based on a broad suite of options. Every product comes with FluxData's commitment to first-rate customer support. Contact: Pano Spiliotis, (800) 425-0176
About Goodrich Corporation:
Goodrich Corporation, a Fortune 500 company, is a global supplier of systems and services to the aerospace and defense industries. With one of the most strategically diversified portfolios of products in the industry, Goodrich serves a global customer base with significant worldwide manufacturing and service facilities. For more information visit http://www.goodrich.com.
SOURCE: FluxData