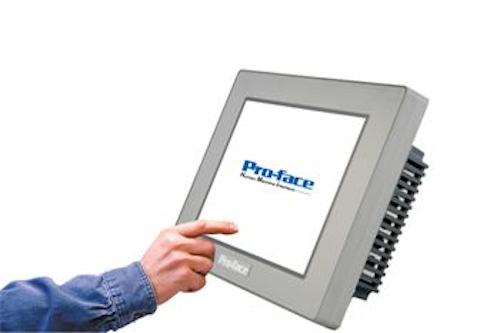 Pro-face CameraViewer EX software displays and records live video of industrial operations via Ethernet connection on a remote PC or corresponding human-machine interface (HMI). For hazardous operational video monitoring, an HMI helps reduce safety concerns by reducing workforce contact with critical equipment and processes unless intervention is necessary. CameraViewer EX leverages the existing automation control architecture to get streaming video with the low additional cost of a software license.
Pro-face America
Chicago, IL, USA
-- Posted by Vision Systems Design

---
NEW PRODUCT PRESS RELEASE
Pro-face America Announces New PC Software: CameraViewer EX
Chicago, IL -- Pro-face America, North American division of Digital Electronics, the global leader of Human Machine Interface (HMI), Operator Interfaces, and Industrial Computers, announces the release of the Pro-face CameraViewer EX Software developed to display and record live video of industrial operations on a remote PC.
Live Video Display for Remote Users: Remotely display, record and playback live video to a computer with CameraViewer EX. High quality video output ensures crisp and clear image resolution from your remote location PC or on a corresponding HMI connected to your automated control operation. Ethernet connection makes it easy and affordable to monitor and service from multiple support locations.
Security: Live video feed provides additional security into hard-to-reach or dangerous areas of your industrial operation. For hazardous operational video monitoring, bring the image safely away from the hazard to the operator through a Pro-face HMI, keeping your workforce safe. Monitor the same image from a remote location and walk equipment operators through exact procedures to operate the machine safely.
Remote Diagnostics: Video playback in conjunction with live control of the Pro-face HMI from a remote location yields a reduction in travel support costs and machine shutdown time. From a remote location, instantly watch or record video of disturbances in your operation and provide diagnostic servicing of equipment.
Leverage Existing Control Architecture: The additional cost of implementing streaming video into your industrial operation is minimal by use of a Pro-face solution. New hardware purchases are unnecessary when CameraViewer EX leverages your existing control architecture to get streaming video with the small additional cost of a software license. This translates into significant cost savings to any company that wishes to remotely access, control, and view live video.
Continued Support: Pro-face is the world leader in HMI solutions and industrial computer products. Pro-face continues to set the global standards for HMI solutions by offering the industry's most extensive product offerings with the highest levels of connectivity. Principal Pro-face products include HMI touch screens, operator interfaces, and industrial PCs.
Pro-face hardware and software is installed in more than 300,000 factory-floor systems worldwide. Pro-face America is headquartered in Saline, Michigan and has employees, sales, and support representatives located worldwide.
SOURCE: Pro-face America