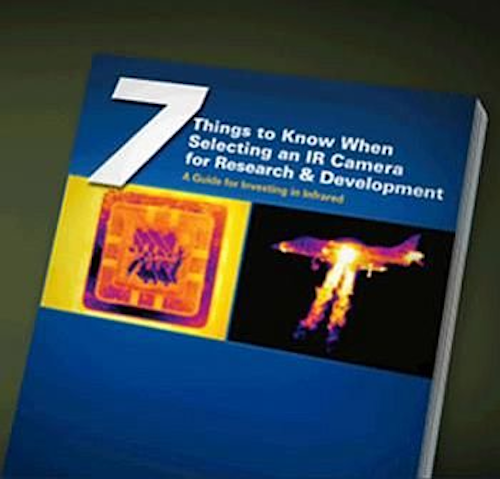 A guide entitled "7 Things to Know When Selecting an IR Camera for Research & Development" provides information regarding the selection of infrared (IR) thermography tools for solving problems based on heat and temperature measurement. The nonintrusive analysis capabilities of thermography systems enable capture of thermal distribution and recording of temporal variations in real time, allowing engineers to see and accurately measure heat production or dissipation process, leakage, and other temperature factors in equipment, products, and processes.
FLIR Advanced Thermal Solutions
Croissy-Beaubourg, France
-- Posted by Vision Systems Design

---
NEW PRODUCT PRESS RELEASE
Guide to Selecting an IR Camera for R&D Applications
Drawing upon over 50 years experience of designing and supplying thermal imaging cameras for Research and Development applications - FLIR Advanced Thermal Solutions have developed an informative new guide entitled '7 Things to Know When Selecting an IR Camera for Research & Development'.
Every day researchers throughout the world are looking for new methods to help them solving their scientific questions. Infrared thermography has proven to be an invaluable tool to solve a wide variety of scientific problems based on heat and temperature measurement.
Because of its non-intrusive analysis capacity, thermography systems have become indispensable instruments for a wide variety of Research & Development applications. In Research & development - thermal imaging cameras are typically used for capturing thermal distribution and recording temporal variations in real time, allowing engineers to see and accurately measure heat production or dissipation process, leakage and other temperature factors in equipment, products and processes.
For a free copy of this informative guide please visit http://www1.flir.com/7things or contact FLIR Advanced Thermal Solutions on telephone +33 1 6037 0100 or email research@flir.com.
Pioneers in all aspects of infrared technology, FLIR designs, manufactures, and supports thermal imaging systems and subsystems for industrial, scientific, governmental, commercial, and firefighting applications. With a 40-year history of infrared innovation, over 100,000 systems in use worldwide, and development centres and sales offices in over 60 countries, FLIR is the world leader in thermal imaging technology.