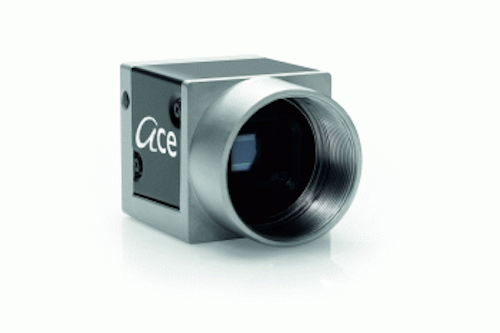 Ten ace area-scan cameras feature the USB 3.0 interface in a 29 mm3 housing and can replace older cameras of similar size and construction, particularly those with a FireWire or USB 2.0 interface. All ace USB 3.0 models are compliant with the USB3 Vision standard. Initial releases achieve resolutions from VGA to 5 Mpixels and capture up to 120 frames/sec using current CMOS sensors and Sony CCD sensors.
Basler
Ahrensburg, Germany
-- Posted by Vision Systems Design

View More Vision+Automation Products

Locate a vendor or system integrator in our Online Buyer's Guide

---
NEW PRODUCT PRESS RELEASE
Basler Introduces ace USB 3.0 Camera Series
Cameras are ideal replacement for FireWire cameras and very reliable thanks to the new USB3 Standard
Ahrensburg – At this year's VISION show in Stuttgart, digital camera specialist Basler is introducing the first ten models featuring a USB 3.0 interface in their ace area scan camera series. The ace USB 3.0 cameras have a very compact 29 mm x 29 mm x 29 mm housing and can readily replace older cameras of similar size and construction, especially those with a FireWire or USB 2.0 interface. Apart from the footprint, certain technical aspects such as high bandwidth, real-time capability, and the sensor selection deliver convincing arguments for users to follow this replacement trend. In the first step, Basler will offer resolutions from VGA to 5 MP capturing up to 120 frames per second. The cameras use modern CMOS sensors and high-quality Sony CCD sensors.

All Basler ace USB 3.0 models are compliant with the USB3 Vision standard. This ensures reliable data transmission, easy integration, greatest possible flexibility in selecting a camera and long-term safeguarding of investment.
The Basler ace series is one of the most popular and best-selling cameras in its class and it is growing to about 50 models with the new USB 3.0 cameras. All Basler ace cameras, whether fitted with a Gigabit Ethernet, Camera Link or the new USB 3.0 interface, provide excellent image quality and outstanding performance for their price.

Product Manager René von Fintel explains: "Users of our USB 3.0 models benefit from the proven ace camera platform. Together with the USB3 Vision Standard, which defines the interface and the interoperability with software and accessories, the camera system becomes very stable and reliable. The combination of high-quality Sony CCD sensors and the very compact housing makes it extremely easy for users to switch from their old FireWire interface to the new USB 3.0 interface."
Basler is a leading global manufacturer of digital cameras for industrial and video surveillance applications, medical devices, and traffic systems. Product designs are driven by industry requirements and offer easy integration, compact size, excellent image quality, and a very strong price/performance ratio. Founded in 1988, Basler has 25 years of experience in vision technologies and has designed and manufactured high quality digital cameras for 15 years. The company employs around 300 people at its headquarters in Ahrensburg, Germany, as well as in international subsidiaries and offices in the U.S., Singapore, Taiwan, and Korea.
For more information, please contact us at +49 4102 463 500, e-mail us at sales.europe@baslerweb.com, or visit us on the web at www.baslerweb.com.
SOURCE: Basler AG