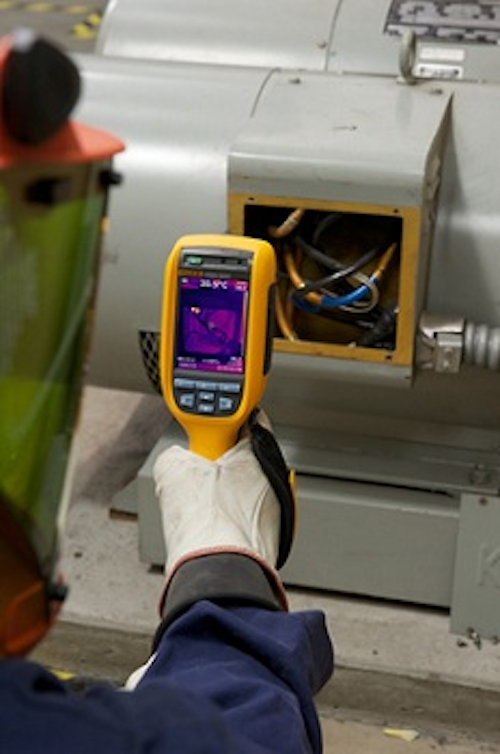 Ti110 and Ti125 thermal cameras have been released for industrial/commercial applications, TiR110 and TiR125 for building diagnostics applications, and Ti100 for general use in thermography applications. Multimode video recording monitors processes over time and enables troubleshooting frame-by-frame. The imagers are available with SmartView professional IR analysis and reporting software for viewing, annotating, and editing infrared images. IR-Fusion technology blends digital and IR images into a single image to precisely document problem areas. The devices weigh 1.63 lb for one-handed operation and can survivae impacts from a 6.5-ft drop.
Fluke Corp.
Everett, WA, USA
-- Posted by Vision Systems Design
View More Vision+Automation Products
Locate a vendor or system integrator in our Online Buyer's Guide
---
NEW PRODUCT PRESS RELEASE
New Fluke Thermal Imagers Transform Market With Best-in-Class Focus and World-Renowned Ruggedness
Fluke Ti110 and Ti125 for industrial/commercial applications, TiR110 and TiR125 for building diagnostics applications, and Ti100 for general use
EVERETT, Wash. -- Fluke Corporation introduces five new infrared cameras with a broad range of powerful yet easy-to-use capabilities:
-- IR Optiflex Focus System for fast, easy to take, sharply focused, accurate images.
-- IR-Fusion Technology blends digital and infrared images into a single image to precisely document problem areas.
-- One-handed operation at only 1.63 pounds, balanced to sit perfectly in the hand.
-- Built rugged to survive drops up to 6.5 feet.
-- Multi-mode video recording to monitor processes over time and troubleshoot frame-by-frame.
-- IR PhotoNotes annotation system to keep an exact record of equipment models, nameplates, etc.
-- Electronic Compass saves precise location with the image.
-- SmartView professional IR analysis and reporting software for viewing, annotating and editing infrared images.
To view the multimedia assets associated with this release, please click: http://www.multivu.com/mnr/54932-fluke-thermal-imagers-best-in-class-focus-and-world-renowned-ruggedness
Five models available, for a range of users, applications and prices
-- Ti110 and Ti125 for plant technicians, HVAC/R professionals and electricians who need to troubleshoot, maintain and inspect electrical and mechanical equipment and components.
-- TiR110 and TiR125 for building inspection and energy audit professionals evaluating and reporting insulation problems, air leakage, moisture issues, or construction defects.
-- Ti100 for general applications -- the same ruggedness and ease-of use for value conscious professionals.
Pricing and Availability
The U.S. list price for the Fluke Ti100 Thermal Imager is $2,495; the Ti110 and TiR110 models are $4,495; and the Ti125 and TiR125 models are $5,495. For more information, visit: www.fluke.com/fluke/usen/products/categoryti.
Fluke Thermography
Fluke offers a full range of infrared cameras for industrial/electrical, process and building diagnostic applications. For more on Fluke thermal imaging products, contact Fluke Corporation, P.O. Box 9090, Everett, WA USA 98206-9090, call 800-760-4523, fax 763-551-0038, email thermography@fluke.com, or visit http://www.fluke.com/thermography.
About Fluke
Founded in 1948, Fluke Corporation is the world leader in compact, professional electronic test tools. Fluke customers are technicians, engineers, electricians, and metrologists who install, troubleshoot and manage industrial, electrical and electronic equipment and calibration processes. Fluke is a registered trademark of Fluke Corporation in the United States and/or other countries. The names of actual companies and products mentioned herein may be the trademarks of their respective owners. For more information, visit the Fluke website.
SOURCE: Fluke Corp.