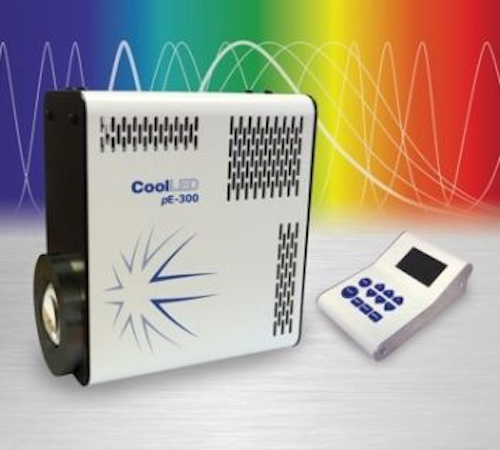 pe-200 and pe-300 LED light source series offer two-wavelength and three-wavelength configurations, respectively. The illumination sources are targeted for clinical, tissue culture, and confocal imaging applications, and can be used as a direct replacement for mercury light sources. Lifetimes have been documented at more than 10,000 hours (approximately 15-20 years of typical use).
CoolLED
Andover, UK

-- Posted by Vision Systems Design

View More Vision+Automation Products

Locate a vendor or system integrator in our Online Buyer's Guide

---
NEW PRODUCT PRESS RELEASE

NEW Generation of LED illuminators

CoolLED Ltd. has announced the launch of its pE-200 and pE-300 family of LED light sources. These new LED products benefit from even greater intensity, are more compact, and offer greater value-for money. Common 2-wavelengths (pE-200) and 3-wavelengths (pE-300) configurations are available.

These additions to CoolLED's existing product range offer the user a wide choice of LED illumination to meet individual needs. Common Clinical, Tissue Culture and Confocal configurations are now available in the pE-200 and pE-300 range. An intuitive control pod makes On/Off and independent intensity control simple. The units will be available as a direct fit which simply replaces the redundant mercury source.

With over 5-years' experience in supplying LED illumination to the Life Sciences community, CoolLED offers products with a proven lifetime of >10,000 hours, which equates to 15-20 years of typical use.

Further options with light-guides or optical fibers will follow in future months.

SOURCE: CoolLED Ltd.