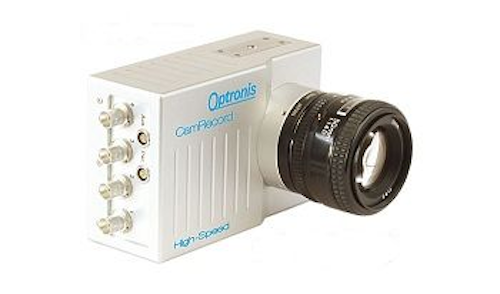 The CL4000CXP camera has four CoaXPress channels and can transfer 25 Gbits/sec across a parallel connection. This allows up to 500 images per second to be received in real time on the PC connected to the camera, supporting complex applications such as real-time 2-D and 3-D surface analysis. The camera also complies with the GenICam Standard, so programming is not required to be performed via customer-specific technologies but is transferred onto the GenICam API (application programming interface).
Optronis
Kehl, Germany
-- Posted by Vision Systems Design
View More Vision+Automation Products
Locate a vendor or system integrator in our Online Buyer's Guide
---
NEW PRODUCT PRESS RELEASE
4 megapixel CoaXPress is just the start
Optronis upgrade for image-processing solution
Kehl/Germany - Conventional measuring devices are being pushed to their limits with increasing regularity in highly automated production systems. This represents an opportunity for optical measuring technology. Kehl-based Optronis GmbH's response to market demands is the CL4000CXP - still the first 4 megapixel camera in the world with a high-speed CoaXPress interface that the manufacturer is now upgrading with the GenICam (Generic Interface for Cameras) Standard.
The Optronis 4 megapixel CoaXPress camera received its public launch back in the fall of last year. The CL4000CXP has four CoaXPress channels and can transfer 25 gigabits per second across a parallel connection. This allows up to 500 images per second to be received in real-time on the PC connected to the camera. It's a solution that meets the most exacting requirements of the image processing industry and is now set to become even more attractive with the application of the GenCam Standard.
Easy access
"We would like to simplify access to this intelligent image processing solution even further. We've achieved an important milestone with the development of the first 4 megapixel camera with a standardized CoaXPress interface, especially for sophisticated real-time applications in 2D and/or 3D surface analysis," explains Dr. Bernd Reinke, Division Manager Industrial Cameras at Optronis. In order to improve the application, analysis and performance of modern image processing solutions further, camera programming and integration are now supported by the GenCam Standard. This makes industrial high-speed cameras even easier to configure, as programming is no longer undertaken using customer-specific technologies but is transferred onto the GenCam API (Application Programming Interface).
An all-inclusive offer
Optronis high-speed cameras are complete solutions that customers can operate for their image processing requirements without the need for in-depth knowledge. For example, the company already supplies interfaces for frame grabbers produced by leading manufacturers, thus providing configuration tools that make it easier to integrate the cameras as well as providing for semi-automated configuration of the devices. Supported by the development environment provided by the respective frame grabber manufacturer, this also provides the customer with a professional solution for evaluating optical data easily but expertly.
Demands on the manufacturer
Optronis offers simple solutions for image processing in industrial applications for obtaining traceable and high-precision data. "We have learned that the market is increasingly looking for easy-to-manage solutions. As a manufacturer, it is our job to help and to use our expertise so that it becomes increasingly easier for users and system integrators to use highly specialized high-tech systems," adds Dr. Reinke.
About Optronis
Optronis GmbH is based in Kehl, Germany, and supplies simple solutions for capturing ultra-fast processes. To achieve this, the company develops, manufactures and distributes streak cameras and high-speed video cameras that are especially user-friendly. The 16-strong team brings its sound knowledge and many years' experience to bear in the field of ultra-fast optical measuring technology. As a result, Optronis can offer its customers not only top quality, easy-to-use standard products but also system solutions that are tailored to the individual needs of the customer.
SOURCE: Optronis