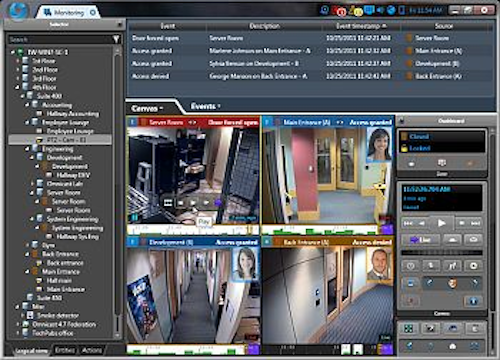 Scallop Imaging's D7-180 7-Mpixel digital cameras have been integrated with Genetec's Security Center software platform for managing surveillance tasks. The camera features a 180-degree field of view, power over Ethernet (PoE), and H.264 compression. The Security Center software platform merges video surveillance, access control, and license plate recognition (LPR) into one suite. Integrating the camera with the surveillance management platform enables simplified management of real-time video monitoring, alarms, and event reporting under one interface. Processing more than 100 Mpixels/s, the D7-180 camera distributes imaging across multiple small image sensors to produce a 720p HD stream at 15 frames/s and a full 5120 x 1280-pixel video stream at 1 frame/s simultaneously.
Scallop Imaging, a division of Tenebraex Corp.
Boston, MA, USA
-- Posted by Vision Systems Design

---
NEW PRODUCT PRESS RELEASE
Scallop Imaging D7-180 Cameras Integrated With Genetec Security Center Unified Platform
Eases Deployment and Management of High-Resolution, 180 Degree Field of View Video Cameras
BOSTON -- Scallop Imaging, a supplier of high resolution, panoramic video cameras, announced the integration of Scallop Imaging's D7-180 camera with Genetec's Security Center platform. The Scallop Imaging D7-180 camera features seven megapixel resolution and a 180 degree field of view, along with PoE and H.264 compression. Security Center merges the common functionalities of video surveillance, access control and license plate recognition into one easy-to-use platform.
Scallop Imaging's D7-180 seven megapixel digital camera distributes the imaging task across multiple, small image sensors, processing over 100 megapixels per second to calibrate, synchronize and merge video in real time. The result is two simultaneous video streams: a 720p HD stream composed of a true 180 degree, non-fisheye, situational awareness view at 15 frames per second, and up to four instantly repositionable zoom windows at full pixel resolution at 15 fps; and a full resolution (5120x1280 pixels) video stream at one fps.
"By integrating the D7-180 camera with the Genetec Security Center, we've made it even easier to manage real-time monitoring, alarm management, and event reporting from an intuitive interface," said Peter Jones, President of Scallop Imaging. "The combined system also delivers the high-end system availability, security and scalability that customers require."
"Scallop Imaging's D7-180 camera enhances and maximizes the innovative features of our video surveillance and access control systems, enabling us to deliver the best, integrated solutions and offer a variety of applications to different markets," said Morgan Pasnon, Senior Technology Alliance Manager, Genetec. "By partnering with Scallop Imaging, we've enhanced our existing product offerings, so we can meet the wide variety of needs of our customers."
About Scallop Imaging, Inc.
Scallop Imaging is the leading innovator in developing video imaging systems based on the principles of distributed imaging. Distributed Imaging is a patented technology, developed by Scallop, where the outputs of multiple megapixel image sensors are fused in real-time within the camera to produce seamless images of any field of view or resolution. This allows incredible resolution in a small form factor at reasonable cost and with low bandwidth requirements. Scallop Imaging's award-winning seven megapixel D7-180 and A7-180 cameras provide a combination of panoramic 180 degree field of view plus detailed zoom views. Scallop Imaging is a Division of Tenebraex Corporation, which was founded in 1992 and is located in Boston. Tenebraex develops and manufactures innovative optical products that solve real world problems.
SOURCE: Scallop Imaging Inc.