Machine-vision system checks containers and packages
JUNE 30, 2009--MCSVision (Glen Ellyn, IL, USA) has developed the 51R75, a conveyor-based case-pack inspection system for a customer wanting to inspect cases of dried fruit containers with plastic lids
Jun 30th, 2009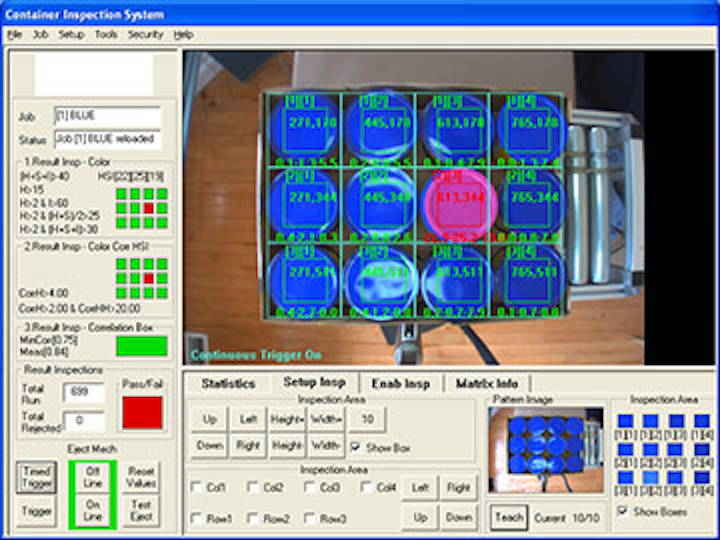 JUNE 30, 2009--MCSVision (Glen Ellyn, IL, USA; www.mcsvision.com), a supplier of OEM vision systems, integration services, and turnkey solutions, has developed the 51R75, a conveyor-based case-pack inspection system for a customer wanting to inspect cases of dried fruit containers with plastic lids (watch the video below).
The system inspects the total number of containers and presence of a lid and uses the RGB information in the image to check for correct color. The system also keeps a recallable record of the defects, which allows the operator to pull up a table to see exactly when a product was rejected and for what reason.
An embedded PC with a Core2 Duo processor from Intel (Santa Ckara, CA; www.intel.com) and a PLC from Allen-Bradley (Milwaukee, WI, USA; www.ab.com) are used to control the camera, lighting, and other hardware components. The 51R75 uses a Point Grey Research (Richmond, BC, Canada; www.ptgrey.com) color 1024 x 768-pixel Flea2 FL2-08S2C camera to look at the top of the containers within the case as they run through.
Image acquisition and camera control is performed by Point Grey's FlyCapture camera driver and software. Captured images are streamed over a 25-ft FireWire cables to a PCI Express FireWire card on the host PC, where they are processed by MCSVision's proprietary image-processing software.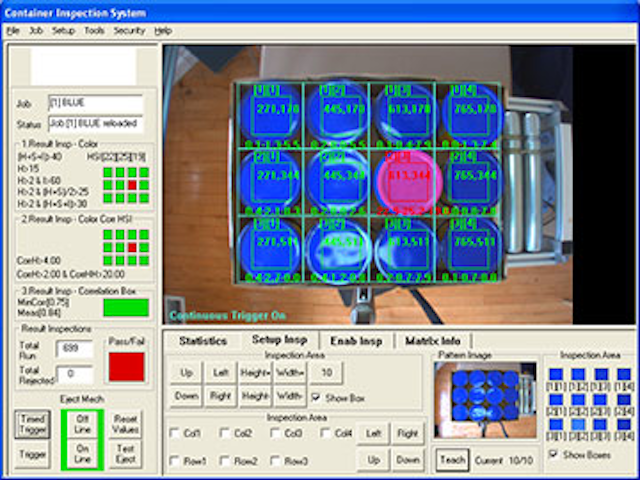 MCSVision recently demonstrated the 51R75 case pack and the four-camera 51R84 360-degree label inspection systems at the International Robots, Vision & Motion Control Show (Rosemont, IL, USA). The company integrated Point Grey's FirePRO LDR (long distance repeater) into the 51R84. It's intended for applications that require the host computer to be separated by up to 100 m from the rest of the system.
For more information go to www.ptgrey.com.
For related Robots & Vision videos, view our Trade Shows video lineup.

-- Posted by Conard Holton and Carrie Meadows, Vision Systems Design, www.vision-systems.com