IMAGE CAPTURE - Sorbent eliminates condensation from cameras
Sensors, imaging devices, and cameras that must operate under outdoor or other adverse conditions are subject to diminished performance or malfunction due to condensation.
Jun 1st, 2009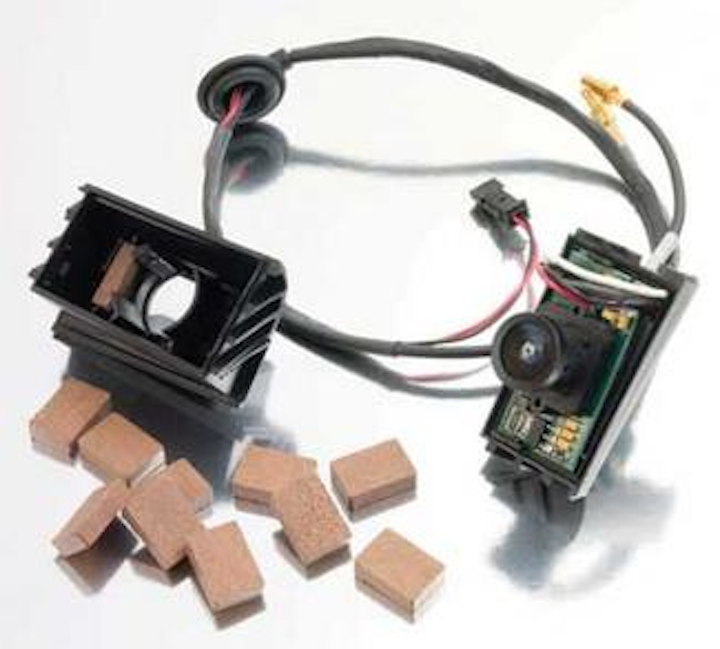 Sensors, imaging devices, and cameras that must operate under outdoor or other adverse conditions are subject to diminished performance or malfunction due to condensation. Automotive applications in particular such as rearview and forward-looking cameras demand operation between –40° and +85°C.
In these applications, large temperature and relative humidity fluctuations can result in water vapor appearing within the camera housing, clouding both lenses and optical windows. If this condensation occurs, clear images will not be captured on the automobile's dashboard display, impairing the driver's ability to see objects in front and behind the vehicle.
"To reduce the weight while reducing the cost of these automotive cameras," says Samuel Incorvia, senior product leader with Multisorb Technologies (Buffalo, NY, USA; www.multisorb.com), "system manufacturers manufacture their camera housings with adsorbing materials. These materials are typically selected because of desirable characteristics such as dimensional stability or cosmetic appearance and the permeability aspect for the most part goes unnoticed."
Some of the more common types of these materials include polyamides (nylons), polycarbonates, and ABS, to mention a few. Even when enclosed in camera housings made of these materials, moisture will be absorbed to a greater or lesser extent, resulting in a transfer of moisture from the outside to the inside of the device or camera housing. This transfer of moisture will after time result in condensation under extreme or rapidly changing environmental conditions.
Connaught Electronics Limited (CEL; Co. Galway, Ireland), now part of Valeo (Paris, France; www.valeo.com) is only too aware of the problems associated with such plastics. As a second-tier supplier to Jaguar Land Rover (Coventry, UK; www.jaguarlandrover.com), the company was charged with building a rearview camera for the Range Rover SUV. Peter Reilly, R&D manager, and the engineering team at CEL knew that their camera would have to withstand the same rugged environments as the Range Rover without the lens becoming cloudy with moisture from condensation.
His challenge was to achieve high levels of moisture control in the confined camera housing using a sorbent small enough to fit behind the lens of the camera without interfering with electrical functions. To ensure that their camera would perform in line with Range Rover's expectations, CEL turned to Multisorb Technologies for a sorbent product that could be built directly into the camera and assist with moisture prevention.
"Multisorb always develops a sorbent solution that is customized to fit the application. Through extensive research and development, we always look to find the most effective and efficient sorbent format for the application," says Incorvia.
For CEL, Multisorb created a custom NatraSorb 900 product formed into a small rectangular volume that is secured behind the camera lens using a compression fit (see figure). "Of course," says Incorvia, "to accommodate the sorbent required that the camera housing be redesigned." However, in other applications, redesigning the housings to accommodate these products can also be beneficial in reducing part costs.
CEL expanded its relationship with Multisorb using unique sorbent solutions for electro-optical devices used in other vehicle programs.