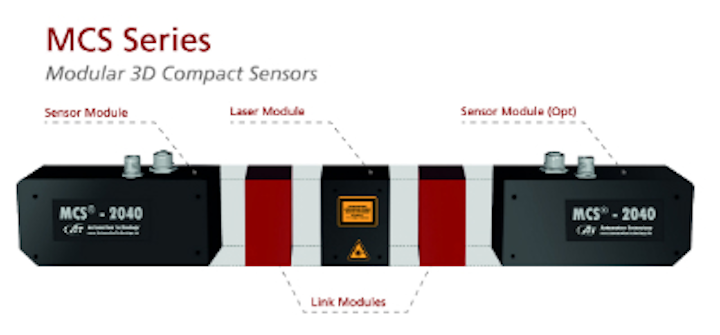 The MCS series of compact 3D sensors from Automation Technology, to be shown at Automate 2019, are built with IP67 protection and tailored to user specifications. Current sensor modules support output up to 2,048 points per profile and a profile speed up to 200 kHz. Scan width ranges from 130 to 1200 mm, z-range is 100 to 800 mm with a triangulation angle of 15 to 45°, resolution x is between 80 and 580 µm, resolution z is between 2 and 22 µm. The laser is available in red or blue, with three laser classes possible: 2M, 3R, and 3B.
The IRSX series of smart infrared cameras have a pixel size of 17 x 17 µm. The IRS336 is 336 x 256, the IRS640 model is 640 x 512, and both cameras have a spectral range of 7.5 - 13 µm. The IRSX cameras are contained within a 155 x 55 x 77 mm housing, not counting lens size. They support a large series of protocols including but not limited to GigE Vision, Modbus TCP, HTTPS, and FTP.
Automation Technology will show at Automate 2019 in Booth #8456.

To Learn More:
Contact: Automation Technology
Headquarters: Bad Oldesloe, Germany
Product: IRSX smart infrared cameras and MCS series 3D sensors.
What Automation Technology says:
View more information on the IRSX smart infrared cameras and MCS series 3D sensors.
Share your vision-related news by contacting Dennis Scimeca,Associate Editor, Vision Systems Design
To receive news like this in your inbox, click here.