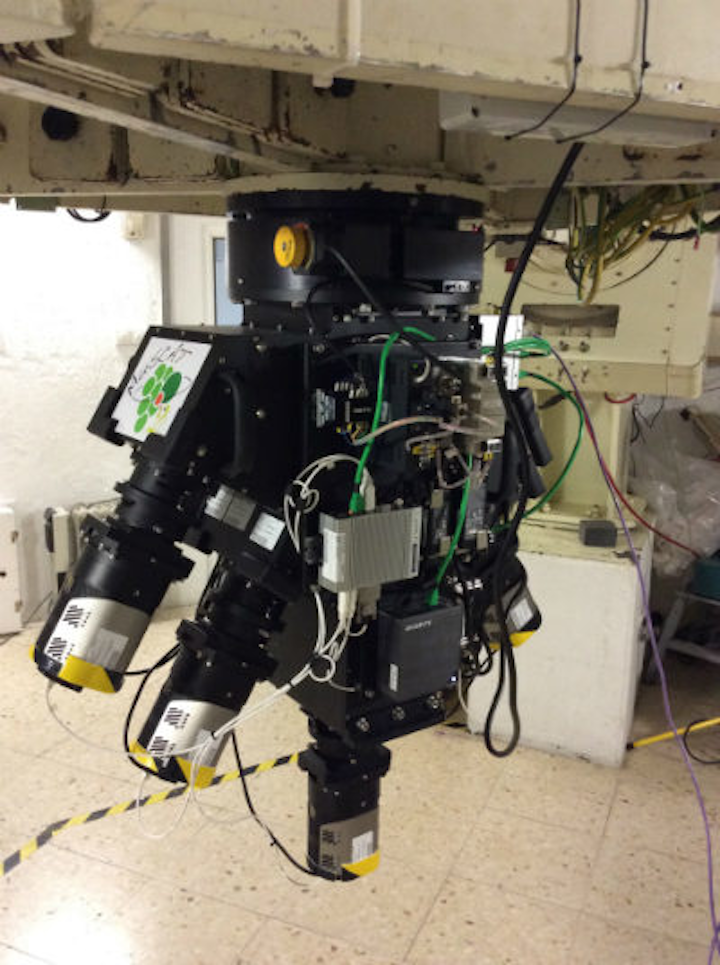 Researchers from the Astrobiology Center in Mitaka, Tokyo, the University of Tokyo, and the Instituto de Astrofísica de Canarias in Spain, have developed the MuSCAT2 second-generation 1.52 m Multicolor Simultaneous Camera, to study the atmospheres of exoplanets, or worlds beyond our solar system, with the hope of discovering Earth-like planets orbiting stars near the Sun.
The MuSCAT2, deployed at the Teide Observatory in Tenerife, Spain, utilizes four PIXIS back-illuminated 1024 x 1024 pixel CCD cameras, developed by Teledyne Princeton Instruments, to simultaneously image in the 400 to 550 nm, 550 to 700 nm, 700 to 820 nm, and 820 to 920 nm bands. One of the four cameras used is a PIXIS 1024B. The other three cameras are 1024B eXcelon models. Each camera is independently controlled by a PC, which allows observers to set different exposure times for each camera or to set synchronized exposures.
The MuSCAT2 uses three dichroic mirrors-filters that allow a specific range of color to pass while reflecting other colors-from Asahi Spectra Co. to separate light into four wavelength channels. The camera also utilizes band filters developed by Astrodon Photometrics and a custom-ordered band filter from Asahi Spectra Co. The three-color simultaneous imaging camera MuSCAT, deployed at the National Astronomical Observatory of Japan, was capable of probing atmospheres of super-Earth/mini-Neptune-sized planets orbiting a nearby M dwarf star. The researchers expect that MuSCAT2 should have similar or better capabilities.
MuSCAT2 should be particularly useful in collaboration with NASA's Transiting Exoplanet Survey Satellite (TESS), that was launched in April 2018. Scientists discover exoplanets by observing planets as they pass in front of their host stars and block the light. Scientists can investigate the true mass, radius, density, orbital obliquity-the angle between the planet's rotational axis and orbital axis-and atmosphere, of these planets.
Eclipsing binary stars, a pair of stars that orbit each other, also can block the other's light during their orbits and thus create false positive results in the search for exoplanets. NASA predicts that the false positive rate for the TESS mission caused by eclipsing binaries will be between 30-70%, based on the direction in which the stars were observed.
A four-color simultaneous telescope like MuSCAT2 can help detect these false positive results by observing the change in color as an object passes in front of a star. For a binary star system, the color of the light coming from the system changes while it dims. When an exoplanet passes in front of a star, however, the color remains the same as it dims.
The MuSCAT2 went into service on the night of August 23, 2017. Science operations began in January 2018 and included 250 telescope nights that year. MuSCAT2 is expected to serve more than 162 nights per year, until 2022. In addition to supporting TESS operations, the MuSCAT2 would also be appropriate to support the European Space Agency's PLAnetary Transits and Oscillations of stars (PLATO) mission that is planned for launch around 2026.
Related stories:
Researchers use infrared camera to observe solar eclipse
NASA's Raven vision system to enable autonomous rendezvous at the International Space Station
World's largest map of visible universe released
Share your vision-related news by contacting Dennis Scimeca,Associate Editor, Vision Systems Design

To receive news like this in your inbox, click here.