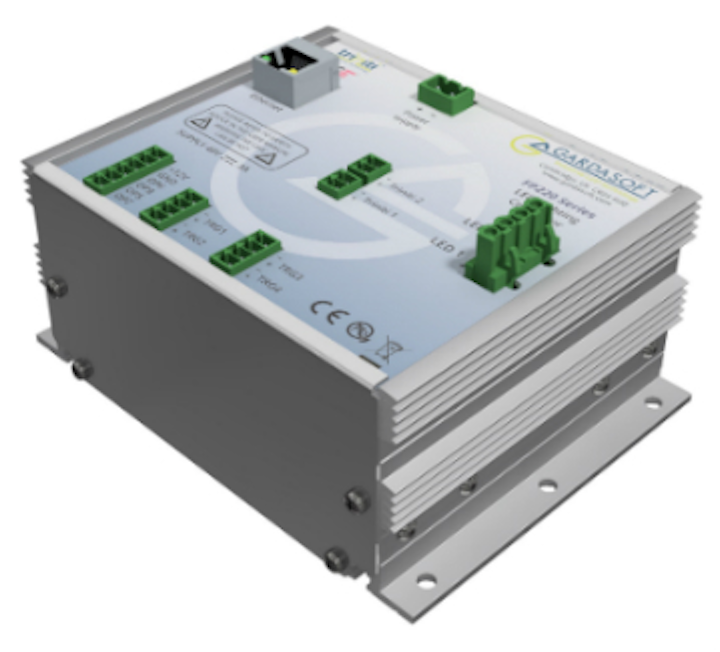 Industrial LED technology manufacturer Gardasoft will show the new FP200 series lighting controller at Automate 2019. The FP200 can trigger frequencies up to 20 kHz, with a maximum pulse current of 20A. The FP200 series according to the manufacturer also delivers improved performance for low current output at sub-milliamp levels. Standalone versions and versions that are compatible with Gardasoft's triniti intelligent lighting platform are available.
Gardasoft will also exhibit the CC320 trigger timing controller for machine vision sequencing, and put on demos of the 16-channel PP1600 controller and TR-CL lens controller series.
Gardasoft will show at Automate 2019 in Booth #8910.

To Learn More:
Contact: Gardasoft
Headquarters: Swavesey, Cambridge, UK
Product: FP200 lighting controller
Key Features: Frequencies up to 20 kHz, maximum pulse current of 20A.
What Gardasoft says:
View more information on the FP220 lighting controller.
Share your vision-related news by contacting Dennis Scimeca,Associate Editor, Vision Systems Design
To receive news like this in your inbox, click here.