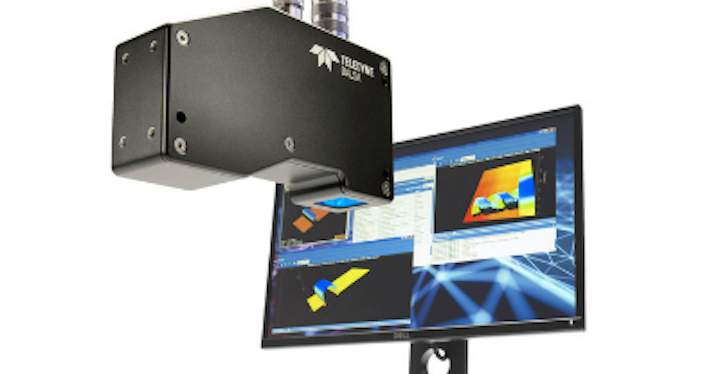 Teledyne Imaging will show products from its Teledyne DALSA and Teledyne e2v subsidiaries at Automate 2019.
The Z-Trak LP1 3D laser profiler from Teledyne DALSA uses a FIR-peak detector, features GigE interface, supports GenlCam and PoE, has IP67 housing, and comes in a variety of models with a measurement range of 10 mm to 1000 mm.
The GEVA 400 vision controller from Teledyne DALSA features four PoE compliant GigE camera ports, an Intel quad-core ATOM 1.8 GHz processor, an optional PL-USB companion module with I/O expansion and inputs for four additional GigE cameras, Ethernet and serial ports for third-party device integration, four USB ports for setup and run-time control, and VGA and HDMI display connections.
The Genie Nano 5 Gigabit Ethernet model cameras from Teledyne DALSA are built around CMOS image sensors from Sony. These monochrome and color 5GBASE-T cameras offer sensor sizes from 3.2 MPixels to 12 MPixels and Teledyne DALSA's TurboDrive technology.
Linea ML series CMOS line scan cameras from Teledyne DALSA deliver images at line rates up to 300 kHz via a CLHS fiber optic interface, in 8k/16k native resolutions. The cameras can provide Mono and HDR imaging with single or dual outputs, in RBG native colors with optional NIR.
The Snappy 2M from Teledyne e2v is a 1/3" optical format 2 MPixel CMOS image sensor with single and multi-region-of-interest modes for tracking simultaneous image regions. It features a 2.8 µm pixel size available in both black and white and color and can capture images at a rate of 100 fps at 8 bits, 68 fps at 10 bits, and 55 fps at 12 bits (full resolution.)
The BOA Spot XL vision sensor includes integrated LED lighting, lens cover, image preprocessors, and advanced calibration for image correction and system coordinate mapping. The BOX Spot XL and includes software for positioning, part locating, pattern matching, and other applications.
Teledyne Imaging will show at Automate 2019 in Booth #7938.
To Learn More:
Contact: Teledyne DALSA / Teledyne e2v
Headquarters: Waterloo, Ontario, Canada / Chelmsford, Essex, UK
Product: Z-Trak LP1, GEVA 400, Genie Nano 5 GigE, Linea ML series, Snappy 2M, BOA Spot XL

What Teledyne Imaging says:
View more information on the Z-Trak 3D laser profiler, GEVA 400 vision controller, Genie Nano 5 Gigabit Ethernet model camera, Linea ML series CMOS line scan cameras, and Snappy 2M image sensor.
Share your vision-related news by contacting Dennis Scimeca,Associate Editor, Vision Systems Design
To receive news like this in your inbox, click here.