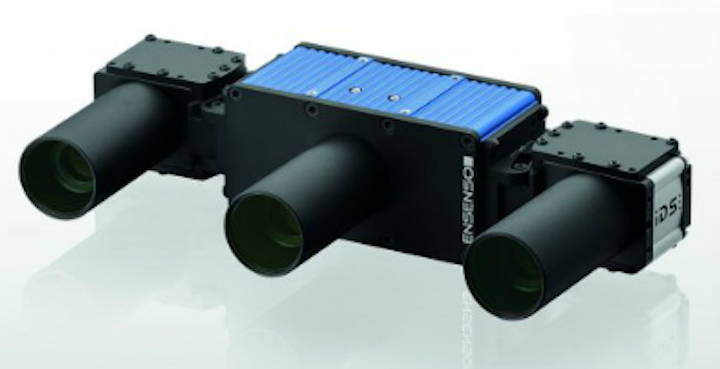 The ability to calculate 3D point clouds itself and transmit the data to a PC via GigE or WiFi are the chief features of the Ensenso XR stereo camera from IDS Imaging Development Systems. According to the company, the Ensenso XR generates 3D data faster and reduces the load on bandwidth and connected PCs by calculating 3D point clouds itself rather than transmitting data to an industrial computer which then makes the calculations.
Two variants of the Ensenso XR with uEye CP and uEye FA industrial cameras, featuring 1.6 and 5 MPixel sensors respectively, will feature IP65/67 protection and be released no earlier than Spring 2019.

To Learn More:
Contact: IDS Imaging Development Systems
Headquarters: Stoneham, MA, USA
Product: Ensenso XR stereo camera
Key Features: Calculates 3D point clouds before transmitting data for analysis.
What IDS Imaging Development Systems says:
View more information on the Ensenso XR stereo camera.
View More Products | Locate a vendor or system integrator | Receive e-mail updates
Share your vision-related news by contacting Dennis Scimeca,Associate Editor, Vision Systems Design

To receive news like this in your inbox, click here.
Join our LinkedIn group | Like us on Facebook | Follow us on Twitter