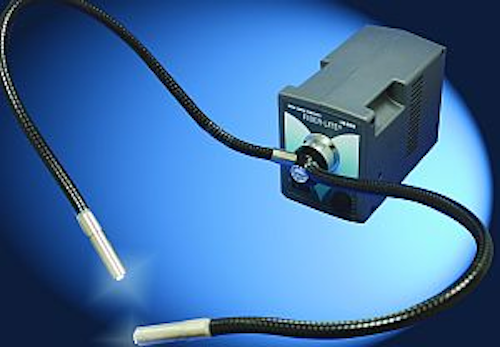 The Fiber-Lite LMI-6000 LED fiberoptic illuminator is designed for microscopy and general illumination. It features bright white LED lighting with a color temp of 6000 K and higher output than typical 150-W halogen fiberoptic illuminators. It is nearly maintenance-free with no lamps or fuses to fail and no lamp sockets to wear out. The LEDs are able to provide 20,000 hours of light. The illuminator has a universal voltage input of 100–240 VAC, and is RoHS compliant and CE certified.
Dolan-Jenner Industries
Boxborough, MA, USA
www.dolan-jenner.com

-- Posted by Carrie Meadows, Vision Systems Design

Find more information on Lighting
------
PRESS RELEASE
FIBER-LITE LMI-6000 LED FIBER OPTIC ILLUMINATOR

Bright White LED Fiber Optic Illuminator
Features Higher Output than 150 watt halogens and RoHS Compliance

Dolan-Jenner Industries of Boxborough, MA, a leading manufacturer of fiber optic components and fiber optic illumination systems that serve the microscopy, imaging, and machine vision industries, introduces the Fiber-Lite LMI-6000 LED Fiber Optic Illuminator for microscopy and general illumination. New and energy efficient, the LMI-6000 features bright white LED lighting with a color temp of 6000K and higher output than the typical 150 watt halogen fiber optic illuminators.

The Fiber-Lite LMI-6000 was designed with microscopy applications in mind, able to support and fully illuminate gooseneck and annular ring light fiber optics, but is also a great solution for inspection equipment, forensics, machine vision, industrial borescopes, assembly stations, and OEM custom lighting.

The LED lighting of the Fiber-Lite LMI-6000 is an energy efficient cost saving alternative requiring less power while delivering higher performance than comparable 150 watt halogens. Offering even more value, the Fiber-Lite® LMI-6000 is practically maintenance free with no lamps or fuses to fail, and no lamp sockets to wear out. The long life LED's of the Fiber-Lite LMI-6000 are able to provide 20,000 hours of light. Conversely, a 150 watt halogen can only provide around 200 hours of light. With such a dramatic increase in light hours, large savings can be realized through greater up time during applications, lower maintenance, and the elimination of replacement bulbs.

The 15 mm nosepiece adapter is compatible with all standard Dolan-Jenner Mi-150 series fiber optic light guide configurations. Furthermore, the Fiber-Lite LMI-6000 has a universal voltage input of 100–240 VAC, and is RoHS compliant & CE certified.
About Dolan-Jenner Industries:
For over 45 years, Dolan-Jenner Industries has been manufacturing Fiber-Lite fiber optic illumination systems for microscopy, imaging, and machine vision applications.
The company is unique in that it designs, engineers and manufactures fiber optics all within a single facility. Dolan-Jenner's Fiber-Lite instruments and custom product applications are used in a variety of industries including packaging, materials handling, automotive, printing, food, metals, and semi-conductor which include research, laboratory, industrial, medical, and pharmaceutical markets. For more information about Dolan-Jenner, contact Dolan-Jenner, 159 Swanson Road, Boxborough, MA 01719; call 1(800) 833-4237. or e-mail: jnardone@dolan-jenner.com or. Visit Dolan-Jenner on the web at http://www.dolan-jenner.com.