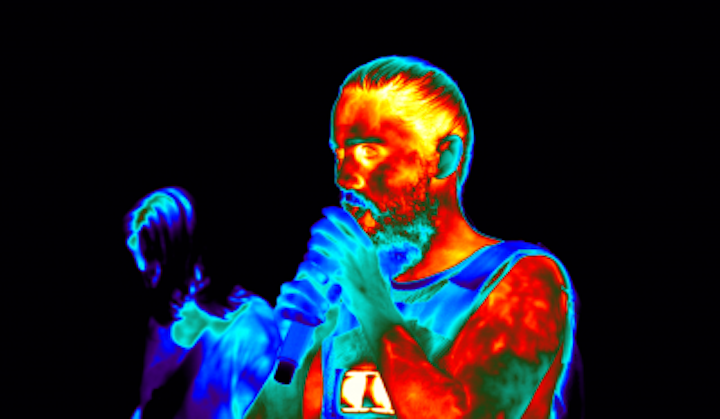 Led by Academy Award-winning actor Jared Leto, rock band 30 Seconds to Mars had their performance at the 34th annual MTV Video Music Awards (VMA) filmed as part of a live thermal video broadcast.
Leading up to the event, Leto had been teasing a unique live performance, which took place at The Forum in Inglewood, CA, USA. Weeks prior to the VMAs, the band's production company approached systems integrator and distributor MoviTHERM with the desire to use several FLIR infrared cameras as part of the performance.MoviTHERM then assembled a team of thermal imaging engineers and began working with the creative production team, choreographers, dancers, choir, and band on the thermal video performance.
"This was history in the making," said Vatche Arabian, Senior Manager of Strategic Communications at FLIR. "This was the first time ever that four FLIR HD Thermal Cameras had been used in a live, world-wide TV broadcast!"
As part of the live broadcast, MoviTHERM used two FLIR A8300sc and two FLIR SC8300 HD thermal cameras with HD-SDI outputs, suitable for broadcasting in 720, according to Markus Tarin, President & CEO at MoviTHERM. The A8300sc is a compact, low-noise mid-wave infrared camera featuring a 1280 x 720 Indium Antimonide (InSb) infrared detector with a 14 µm pixel pitch and a spectral range of 3 to 5 µm. The camera streams infrared data via GigE, USB3, or CoaXPress interface and also features a 14-bit dynamic range and a 60 fps frame rate.
Featuring a 1,344 x 784 InSb detector with a 14 µm pixel pitch and a spectral range of 3 – 5 µm or 1.5 – 5 µm, the Science 8300 (SC8300) camera features both GigE and Camera Link Full interfaces, a 14-bit dynamic range, and a 132 fps frame rate.
"When it became apparent that temperature span adjustments had to be made on-the-fly during live broadcast, we decided to develop special thermal imaging and camera control software to accommodate that task," said Tarin. "The software enabled us to optimize the thermal contrast of the performers in real-time during the live performance and respond rapidly to cues of the video director."
Billboard Magazine called the performance "mind-bending" in itscoverage of the event.
Jared Leto spoke to FLIR about the performance, and why he wanted to utilize thermal imaging cameras for it.

"To be able to bring this idea to life, it took a village, a very large village," he said. "When you do a show like the MTV Awards you have an opportunity to explore and experiment, to revisit the past or to push towards the future. We knew we wanted to do something that hadn't been done before."
He continued, "Playing in total darkness, and capturing our performance via thermal signal and doing it live was complex, challenging and seemingly impossible but with the help of a very patient MTV and an enthusiastic team of creative dreamers, we accomplished our goal. Working with the FLIR team has been inspiring and an absolute pleasure."
View the performance from the VMAs.
Share your vision-related news by contacting James Carroll, Senior Web Editor, Vision Systems Design

To receive news like this in your inbox, click here.
Join our LinkedIn group | Like us on Facebook | Follow us on Twitter