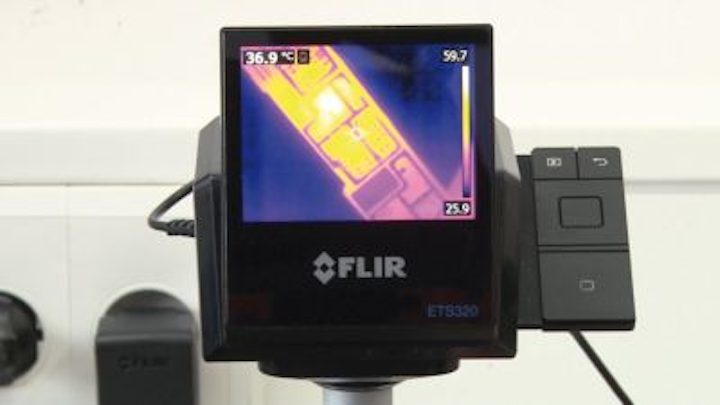 Based in Stuttgart, Germany; ISOMEDIA is an after-market customer service center that focuses on same-day repair of leading mobile devices. In order to speed up their work, the company is using an infrared camerato locate problems and identify issues in printed circuit boards (PCB).
The company utilizes a FLIR ETS320 infrared camera in their repair work. The ETS320 is a non-contact thermal measurement system that pairs an infrared camera with an integrated stand for hands-free measurement of PCBs and other small electronics. The camera features a 320 x 240 uncooled microbolometer infrared detector with a spectral range of 7.5 to 13 µm. Featuring a field of view of 45° x 34°, the camera acquires images at a rate of 9 fps.
With the ETS320 camera, the team is able to quickly reveal hot spots on PCB, which is important because within a short timeframe, the team can troubleshoot if there is an issue with the PCB, and what the problem may be, according to Nicolas Marsot, Technical Engineer at ISOMEDIA.
"The FLIR ETS320 clearly visualizes hot spots on the PBA. At ISOMEDIA, we value our time, so if we have something like the ETS320, that is perfect for us," he said. "It speeds up the repair work tremendously. It's also easier to use for this type of work. Although the T-Series we have is movable, it's fixed to a mount in our facility. The ETS320 is very mobile and we can easily share it among multiple technicians when necessary."
In addition to this camera, ISOMEDIA uses a FLIR T420 infrared camera to see the temperature flow on the PCB and analyze what is happening. This camera also features a 320 x 240 uncooled microbolometer infrared detector with a spectral range of 7.5 to 13 µm, but also has a 3.1 MPixel visible camera, which provides team members both a thermal and a visual image that they can show to customers.
"We use the power of thermal imaging on a daily basis. Thermal imaging, and in particular the FLIR ETS320, helps us do our work faster and provide the excellent and fast service to the customer that ISOMEDIA is known for," said Marstot.
View more information.
Share your vision-related news by contacting James Carroll, Senior Web Editor, Vision Systems Design

To receive news like this in your inbox, click here.
Join our LinkedIn group | Like us on Facebook | Follow us on Twitter